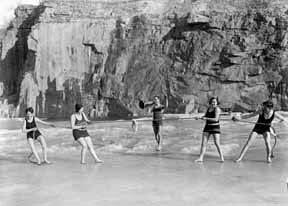 The Millyard Museum is offering a $3 discount on admission and a special lecture for AARP members all day Saturday, February 22. Admission includes access to all the exhibits as well as a special lecture on The Ledge. Museum hours are 10:00 to 4:00 with the special lecture at 11:00.

The Millyard Museum – at 200 Bedford Street in Manchester – is rich in history. The Museum features the permanent exhibit, Woven in Time:  11,000 years at Amoskeag Falls, that tells the story of Manchester and the people who have lived and worked here.

The exhibit continues with the story of the development of the Amoskeag Manufacturing Company, one of the largest textile-producing companies in the world, employing over 17,000 people. The company's vast brick millyard still dominates Manchester's cityscape today.

All exhibits are included in the price of admission, as well as a special lecture at 11:00 titled The Ledge. As the textile mills were being constructed along the Merrimack River, rock was needed to build the foundation. Tons of granite were dragged from the Amoskeag Ledge and began filling with spring water. The Ledge began its second life as a popular 1920s swimming attraction. Learn about The Ledge, the year-round swimmers, and their daring dive routines. Preregistration for the special lecture is recommended by calling 603 622 7531.

Discounted adult admission on February 22 is $5 and those 62 and older pay just $3. Admission is free to those 12 and younger. AARP members must show their membership card to receive the discount.

To find out more about local discounts and activities, visit AARP New Hampshire on-line at aarp.org/nh, facebook.com/aarpnh, and twitter.com/aarpnh. To get electronic newsletters based on specific interests – such as health, fitness and discounts – visit www.aarp.org/yes2emailNH.