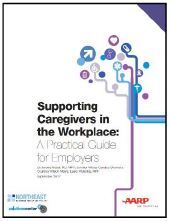 Did you know that nearly 17% of your employees may be caregivers?

In the US today, one in six employees is a caregiver for a relative or friend, and spends on average 20 hours a week providing some kind of care. And given demographic trends, the number of employees acting as caregivers will only grow.

Think you know who the caregivers in your workforce are? Consider these facts: 40% are men, and nearly half are Gen X and Millennials. Regardless of age or gender, these family caregivers need employer support to stay healthy, engaged, and productive.

Supporting these caregivers is in employers' best interests. Failure to support working caregivers can cost employers nearly $3000 per working caregiver. That's serious money.

Support doesn't need to be complicated or expensive to drive positive impact. AARP has created a comprehensive toolkit to help employers in supporting their working caregivers. It's free! Accessible online, the toolkit has three parts, which can be used separately or together, to best serve your needs:

Assess where you are vs. other organizations
Review our practical guide—also attached
Watch and share the supporting videos to hear the perspectives of both employers and employee-caregivers that provide insight into the issue
Learn more about all three parts of the toolkit. Quickly get on the road to addressing this growing need—and retaining experienced talent!