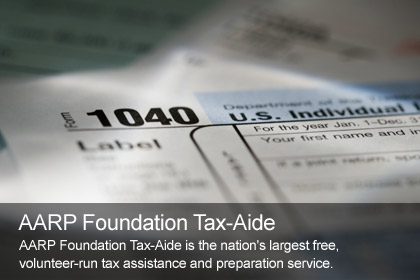 From January 29 through April 15, the AARP Foundation is again providing free tax assistance and preparation for low- to moderate- income taxpayers across the Granite State.

AARP Foundation Tax-Aide, in its 51 st year, is the nation's largest free tax assistance and preparation service, giving special attention to the older population. There is no fee for this service and you do not need to be an AARP member or retiree to use this service.

Last year, 292 volunteers in New Hampshire helped more than 19,000 people file their federal tax returns. Tax-Aide volunteers are trained and IRS-certified each year to ensure their knowledge of revisions to the US tax code. The program is offered at 47 sites including senior centers, libraries and other convenient locations.

To locate an AARP Foundation Tax-Aide site in a New Hampshire community near you and/or to make an appointment, visit www.nhtaxhelp.org or call the Granite United Way at 211. Check out the documentation to bring with you as well.

AARP Foundation Tax-Aide is offered in conjunction with the IRS.