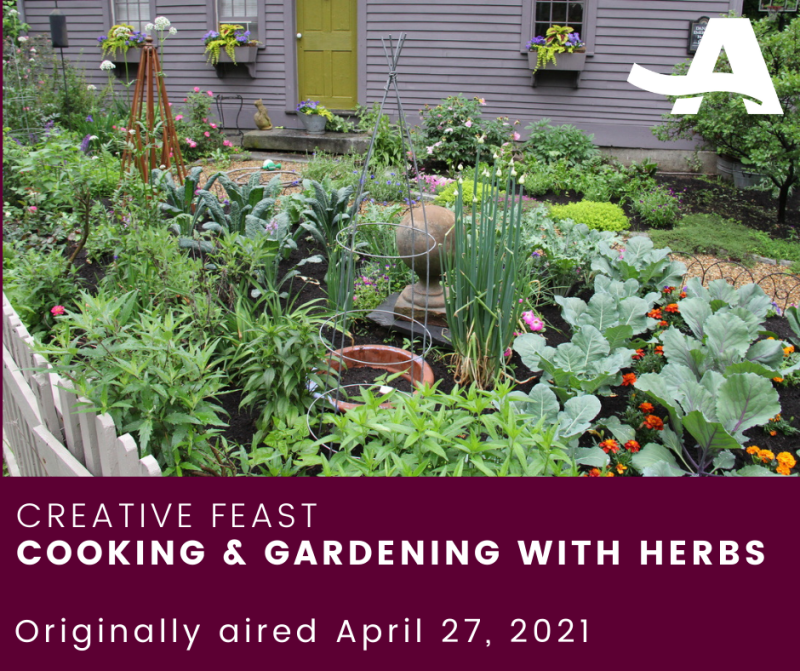 This cooking demo originally aired April 27, 20201. If you missed it, please click the video below:
Creative Feast Cooking Demo: Cooking & Gardening with Herbs
Herbs enhance a recipe far beyond what a sprinkling of salt and pepper can do. They add flavor, color, and give recipes their cultural identity. We have some great suggestions! Wanna learn some creative new ways to use herbs?

This fun, online cooking demo is brought to you by AARP NH and Chef Liz Barbour of The Creative Feast. ​During this free webinar and cooking demo Liz will share with you the edible landscape she has created to surround her circa 1744 New Hampshire village home.

Join her for a slideshow tour through her edible gardens and see how she has introduced a variety of herbs to blend beautifully and deliciously into the landscape. Following the slides, Liz will welcome you into her studio kitchen to demonstrate two delicious recipes featuring herbal combinations that you will love.

​Chef Liz Barbou of Hollis NH, built her cooking career in a variety of Boston's catering and restaurant settings. After starting her family, she reentered the food world as a cooking instructor with Liz Barbour's Creative Feast. Her recipes and teaching style connected with her community, and Liz soon had a large following of loyal students. Liz is a regular guest on New Hampshire's WMUR Cook's Corner and her cooking demonstrations and recipes are featured in various publications including Where Women Cook, New Hampshire Magazine, the Nashua Telegraph, and The Hippo Press.

If you're new to cooking, Liz will take you step-by-step through recipes to build your confidence and inspire you to cook more at home. All of her programs focus on the premise that we are healthier when we cook at home. You'll learn important cooking skills and will be inspired to cook at home whenever possible. If you are passionate about ingredients, you'll learn how to select quality ingredients and combine them to create amazing dishes that you can recreate at home for friends and family.