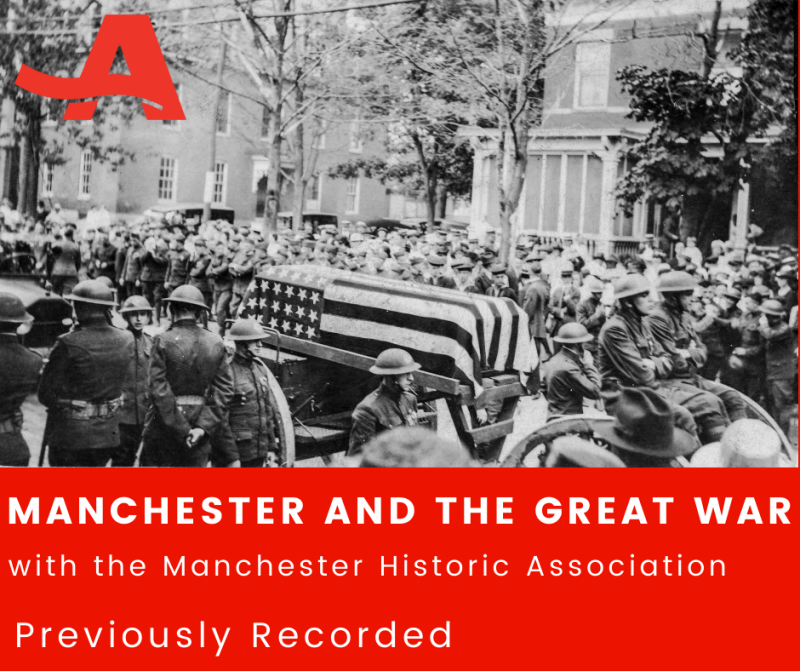 Join AARP NH and the Manchester Historic Association for a previously-recorded webinar to learn more about the Great War and this pivotal time in history.

Watch the recording now:
Manchester and the Great War Recording
The impact of World War I on the city of Manchester will be the topic of a discussion called "Manchester and the Great War." The program will be presented by MHA Research Director Daniel Peters, an Army veteran and Purple Heart recipient who was wounded in combat in Afghanistan. His work with the MHA collection regarding the war formed the basis of his thesis for his master's degree in history at Southern New Hampshire University.

About Daniel Peters:
Mr. Peters is the current Archivist for the Manchester Historic Association. He holds a master's degree in Public History from Southern New Hampshire University. He is also an Eagle Scout from Manchester West Side Boy Scout Troop 102 and he is a decorated disabled combat veteran. During his service in the army, he received 16 different awards in the short three-and-a-half-years he served his country. One of those awards was the Purple Heart which he earned in Afghanistan in October 2006. For the better part of the last decade, he has spent his career studying Manchester's and New Hampshire's rich history. Mr. Peters also works as a free-lance photographer and archival consultant in the southern New Hampshire area. He is dedicated to collecting, preserving, and teaching New Hampshire's past.