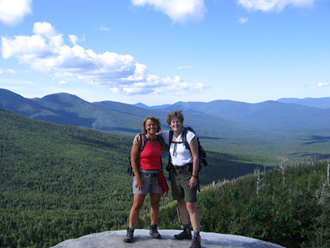 Well, if It's Not About the Hike, what is it about?

It's about pushing ourselves outside our comfort zones, overcoming our own fears, finding our passions, and living our lives to the fullest.

Learn how two inspirational and motivational speakers found the way to their hearts and their healing through their determination and commitment to begin hiking. Sponsored by AARP New Hampshire, " It's Not About the Hike" is free and open to the public.

Wednesday
February 6, 2013

4:00 pm to 6:00 pm

New Hampshire Audubon McLane Center in Concord

This hour-long program highlights the journey of two 50-plus year-old non-hikers who one day decided to climb the 67 mountains in New England over 4,000 feet. Nancy Sporborg and Pat Piper are two ordinary women who went on an extraordinary journey over the mountain summits and into their hearts. This is the story of what they found inside themselves as they hiked over 1,600 miles to the tops of over 244 mountains through all four seasons.

We all have our own mountains to climb. Your mountain may be a 4,000-footer in the White Mountains. But it could also be going to college, getting a job, bringing up children, caring for aging parents or dealing with an illness. Maybe your mountain is reorganizing a business, tackling a difficult project, losing weight or starting an exercise program. It's your own personal mountain and it is hard.

To reserve your spot for this free event and an evening of inspiration, information and fun, please register at http://aarp.cvent.com/Audubon. (Did we mention refreshments?)

And, if you're interested, join us after the presentation for an overview of AARP's New Hampshire Senior Leadership program, what it's all about, how to apply, and what activism means for an aging population and New Hampshire's future.