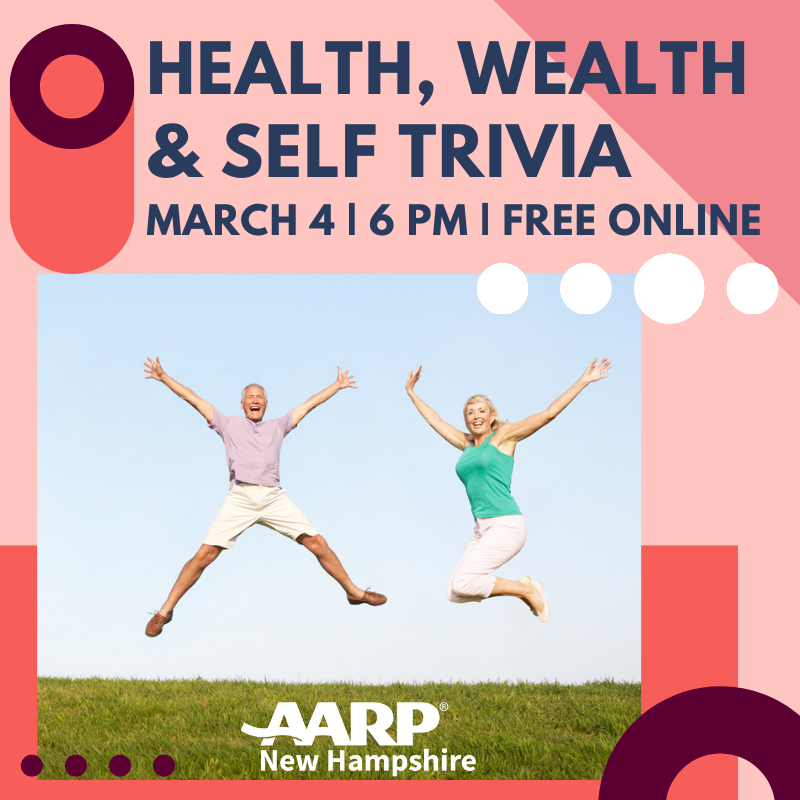 We are living in challenging times. The concept of the "good life" has shifted from owning a home, having a nice a yard and a good job, to place even more importance on good health and having a secure retirement. As we transition from an era of wanting materialistic possessions as a way to express who we are, to searching for experiences; AARP's strategic focus areas, wealth, health and self, become even more crucial.

Join us on Thursday, March 4 at 6 pm for an online trivia challenge from AARP New Hampshire: Health, Wealth & Self.

This FREE, fun, informative 1-hour trivia challenge will focus on the three areas: health, wealth, and self.


Health--Health care needs an overhaul. We need an integrated approach that puts well-being at the center of our lives. As we strive to take control of our health, we take more responsibility for it. We look for better information to make healthier choices, and we search for tools that help us make changes that enhance our physical and mental well-being, not just treat our ailments.

Wealth--Today we are living more active and engaged lives 20 to 30 years longer than our grandparents did. This takes more financial resources. It's no surprise, then, that one of the things we fear most is outliving our money. The time has come to change the conversation — or in many cases, start one — about preparing financially for our later years.

Self--We must change the way we view ourselves as we get older — from aging as decline to aging as continuous growth. Age and experience can expand life's possibilities for everyone. When we embrace aging as something to look forward to instead of something to fear, we can begin to discover our real possibilities for who we want to be.
We hope to "see" you at the Health, Wealth & Self Trivia Challenge on Thursday, March 4 at 6 pm. Space is limited and pre-registration is required: https://aarp.cvent.com/HWSTrivia321