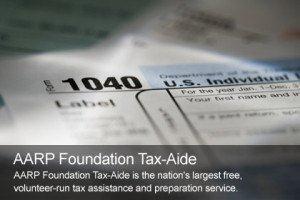 AARP Foundation is again providing free tax assistance and preparation for taxpayers with low to moderate incomes through the AARP Foundation Tax-Aide program. In its 46 th year, the nation's free tax assistance and preparation service gives special attention to an older population. You do not need to be a member of AARP or a retiree to use this service.

AARP Foundation Tax-Aide has grown tremendously since is inaugural team of just four volunteers in 1968. In 2014, 35,000 volunteers at over 5,000 sites provided 2.6 million people with free tax help, resulting in $1.3 billion in income tax refunds and more than $257 million in Earned Income Tax Credits.

"Last year, nearly 300 volunteers helped about 12,000 Granite State families file their federal returns and get $14 million in refunds," said AARP Foundation Tax-Aide State Coordinator Jan Nedelka. "The program was offered at 53 sites, including libraries, senior centers and other convenient locations."

Nedelka continued: "We're proud to have helped so many families who qualified for the earned income credit, a credit people often fail to claim when filing their own returns. This includes many elders who may need a little help getting their return done but shouldn't have to spend their hard-earned savings to do so. Our clients may find their refunds rewarding, but we find the satisfaction of volunteering to help them something you can't put a price on!"

AARP Foundation Tax-Aide thrives due to the remarkable efforts of its volunteer base, but there are always opportunities for new volunteers. Lack of experience shouldn't stop anyone from volunteering. Tax volunteers are trained by local instructors and supplied materials and even equipment, if needed. "There's also a need for on-site greeters – who don't prepare returns – to welcome clients and a need for people with technical skills to help set up and configure computers at the beginning of the tax season," concluded Nedelka.

For more information, visit www.aarp.org/taxaide or call 1 888 AARPNOW (1 888 227 7669). AARP Foundation Tax-Aide is offered in conjunction with the IRS.