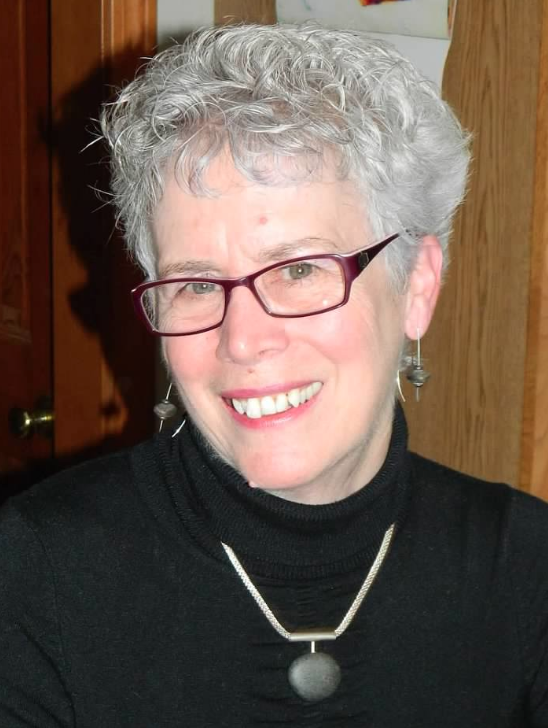 Our 2019 Andrus Award Winner, Martha LaFleur, has a saying, "if there's a will, there's a way." That is exactly how she looks back on her career as an art educator. She started at Keene State College as an art education major until the school moved the program away.

She credits her mother as influencing her for who she is, who went straight to Keene State's president and demanded they do better. This allowed her to take art courses through the University of New Hampshire and graduate from Keene State in 1967. While at UNH, she missed the opportunity to take a secondary education course at Keene that would certify her teaching degree.

"I found a course in Hawaii, but my parents thought that would be too far," she joked. That summer, she took a graduate course at Southern Connecticut State College.

Martha has dedicated her entire career to art education. She spent 34 years teaching in the Keene School District and went into early retirement in 2001, while still substitute teaching for 11 years after. She even taught a course on "Design for Art Education Majors" only 10 years after graduating from college.

Martha has made immense contributions to the District, turning the non-existent art program into one-hour long in-depth art sessions and implementing the "art in a cart" program into every elementary school. All throughout her career, she advocated for using visual art as a language in the classroom.

She emphasized just because she retired from teaching doesn't mean she retired from doing all of the other things she wants to do, especially her advocacy work. Some of her earliest volunteer work included her time as co-director for the Samaritans Suicide prevention hotline during the 1980s, all the while teaching and raising a family.

Martha has served as an advocate for the importance of an arts education long after she retired, including her presidency as the Cheshire County Retired Educators Association. It was during this time that Martha caught the political bug after testifying on behalf of pension payment bills at the state house.

The previous Executive Director of New Hampshire Retired Education Association (NHREA) and 2012 Andrus Award winner, Roland Stoodley, approached Martha about joining AARP New Hampshire's Capital City Task Force, which took some urging.

Before, she considered herself to be a typical AARP member without knowing much about the organization. After attending her first meeting, Martha said, "I got hooked. It was just an eye-opener about what AARP was trying to do for the betterment of seniors." Soon after that, Martha was appointed to the Executive Council for AARP, representing the NHREA.

When she moved to Greenland from her hometown of Keene, she says she lost her surroundings of friendships with retired teachers and had to reinvent herself in a new community. When she organized a potluck with some members of an artist's co-op in Kittery, she asked the group what they were most passionate about. One woman expressed her fear of turning 70 and Martha brought up the possibilities of AARP. "It's so much more than what you can imagine, what AARP does, and how much fun it can have being part of a group…So, when I got to share my passion, I talked about AARP."

Martha said AARP gave her an education beyond her expectations and connects her advocacy work with AARP's Senior Leadership, Executive Council, and Capital City Task Force to her teaching experience.

Her teacher-mode is in full swing at all of the AARP events she helps organize. She says what helps people understand AARP's mission is telling its purpose and telling the story of how it started. "Teachers are advocates, especially public education for children; you're advocating for them. So it's a natural fit that you continue doing advocacy work, even when you retire."

She remarked trying to explain this idea to her husband Allan, who was a guidance counselor at Keene Public Schools. "I actually look at advocacy work and what I did in the art world as similar…In advocacy work you have a goal for something that needs to change or be introduced, you think you develop ways for that to happen, but you end up with roadblocks and it diverts you another way. That's the creative process…Maybe that's why advocacy work fits for me because I like those challenges and I like to see something good happen." Being a good husband, she said Allan tried to convince her he understood, but she laughs and can see why some would see it as a stretch.

Martha and Allan have been married for 40 years and moved to Greenland six years ago. They have two sons, Jamie who lives in North Hampton, and Ross who lives in Dallas. Although Martha misses living in her hometown, she loves being closer to and spending time with her five grandchildren.

Despite her expansive resume in the educational sector and the incredible contributions she has made to AARP New Hampshire, Martha remains humble. Upon being nominated for the Andrus Award, Martha said, "My first reaction was oh, there's got to be some others here that you could be giving this honor to."

We are lucky to have Martha in our community of activist volunteers. Alan Cohen, who works with Martha on the AARP New Hampshire Executive Council, remarks that Martha is outgoing, friendly, self-confident and knowledgeable about AARP, its programs and mission. She is visible at countless events and is a role model for volunteers who see in her the type of volunteer that they can become.

We are pleased that Martha LaFleur was chosen by her peers to be AARP New Hampshire's 2019 Andrus Award Winner!