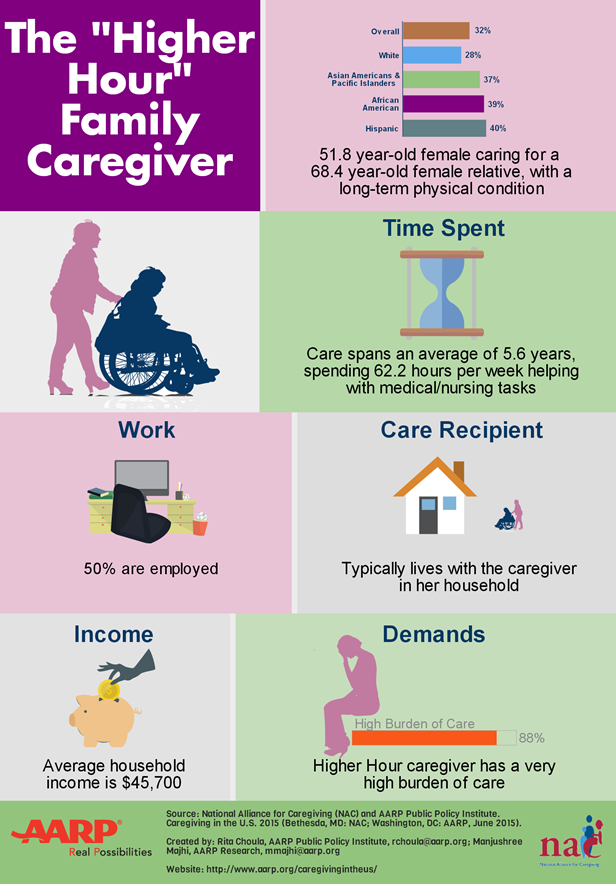 The profile of the family caregiver in America is changing as the population ages, according to a new research study from the National Alliance for Caregiving and AARP. While the "typical" family caregiver is a 49-year-old woman who takes care of a relative, caregivers on the whole are becoming as diverse as the American population.

Caregiving in the U.S. 2015 provides surprising insight into today's family caregivers. The typical higher-hour caregiver (who provides unpaid care for at least 21 hours a week) has been caregiving for an average of 5-1/2 years and expects to continue care for another 5 years. Nearly half of these higher-hour caregivers report high emotional stress (46 percent).

With an average household income of $45,700, caregivers report not only emotional strain, but financial strain. Higher-hour caregivers report difficulty in finding affordable caregiving services, such as delivered meals, transportation, or in-home health services, in the community for them and their loved ones. Caregivers who live more than an hour away from their care recipient also report higher levels of financial strain (21 percent), perhaps because 4 out of 10 long-distance caregivers report the use of paid help (41 percent).

Also surprising are findings from subpopulations of caregivers. Today, nearly a quarter of America's caregivers are millennials between the ages of 18 and 34 and are equally likely to be male or female. On the other end of the spectrum, caregivers ages 75 or older are typically the sole support for their loved one, providing care without paid help or help from relatives and friends. Men, a group often stereotyped as failing to take on caregiving responsibilities, currently represent 40 percent of family caregivers and provide an average of 23 hours a week supporting a loved one.

"We're especially concerned that not enough is being done to support family caregivers in the public or private sector as they age," explained Gail Gibson Hunt, president and CEO of the National Alliance for Caregiving. "There's a double-edged sword when we fail to support caregivers, because we put both the caregiver and the care recipient at risk."

Caregivers of a close relative—like a spouse or a parent—who are likely to provide care for 21 hours or more, indicate that being noted as a family caregiver in the medical records of the care recipient would be helpful in managing their caregiving responsibilities. Other desired supports include respite care, as well as access to resources and tools to assist the caregiver with managing stress and to enable the care recipient to live at home.

"As previous AARP research has shown, we're facing a caregiving cliff," said Dr. Susan Reinhard, senior vice president and director, AARP Public Policy Institute; and chief strategist, Center to Champion Nursing in America. "By mid-century, there will be only three family caregivers available for each person requiring care. That means, to avoid putting them at higher risk as they age, we need to provide support for existing caregivers who are underserved by the current long-term services and support system."

Caregiving in the U.S. 2015 is a joint report between the National Alliance for Caregiving and AARP. The report was made possible through generous sponsorship from AARP, the Archstone Foundation, Eli Lilly, Home Instead Senior Care, the MetLife Foundation, Pfizer, UnitedHealthcare, and the Family Support Research and Training Center in conjunction with the University of Illinois at Chicago.

Get the Report
Visit http://www.caregiving.org/caregiving2015/ or http://www.aarp.org/caregivingintheus/ to download the report and related materials.

Join the Online Conversation
Share your thoughts on social media about the Caregiving in the U.S. 2015 report using the hashtag #caresupport.

Methodology
The 2015 report is based on quantitative online interviews, conducted in 2014, of 1,248 family caregivers, ages 18 and older, for an individual of any age. Caregivers are defined as those who provide unpaid care to an adult or child. This included a random sample of 1,015 caregivers, with oversampling for African American/black, Hispanic/Latino, and Asian-American/Pacific Islander populations.