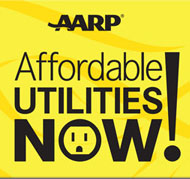 The New Hampshire Public Utilities Commission will hold a hearing in April to discuss Eversource, the state's largest utility, increasing its rates.

Older adults are generally more vulnerable to increases in energy prices because they tend to devote a higher percentage of their total spending on residential costs, compared with other age groups.

Additionally, many older consumers have special needs and safety concerns regarding access to electricity service.

AARP New Hampshire has engaged attorneys and experts to oppose aspects of the proposed rate hike that would disproportionately affect the state's residential customers.

AARP encourages all residents to make their voices heard on the issue by visiting action.aarp.org/NHraiseyourvoice.