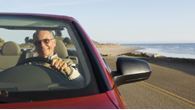 is the nation's first and largest refresher course for drivers age 50 and older. This course will help reduce your chances of receiving a traffic violation, getting into an accident, or becoming injured. Anyone can benefit from a refresher course that helps them stay current with driving laws and new technology!

The classroom course is $15 for AARP members and $20 for non-members. You may be eligible to receive an insurance discount upon completing the course, so consult your agent for details. Please call the number listed below to register.

Monday, March 11

9:00am – 4:00pm

Community Health Services of CMS – Lower Level – LL 22

195 McGregor St
Manchester, NH, 03102-3748

Directions: https://goo.gl/maps/xZi4k7KMoq12

Register: (603) 626-2626

Make sure to check out AARP's Driving Resource Center filled with resources to help you find a smarter, safer and more-sustained life behind the wheel. You can even create a custom Driving Plan with interactive tools ….. just for you.

Safe travels!