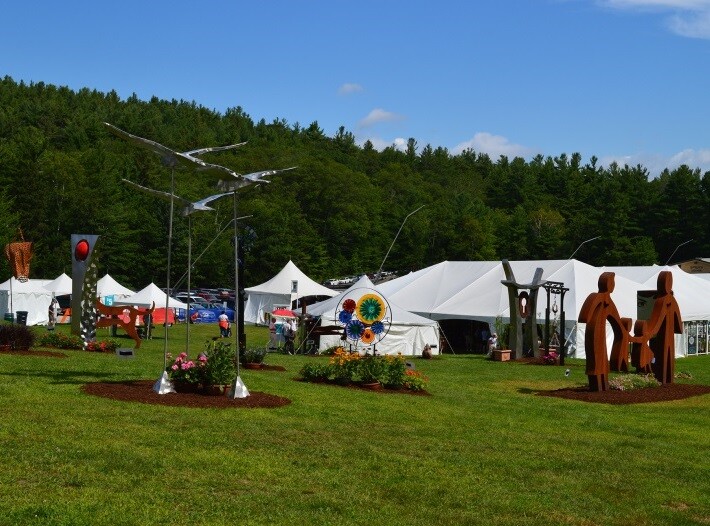 Summer celebrations in New Hampshire wouldn't be complete without the 85 th Annual League of NH Craftsmen's Fair -- August 4 through 12, 2018 – at Mount Sunapee Resort in Newbury.

Starting on the first Saturday in August and running for 9 consecutive days, the Annual Craftsmen's Fair is the oldest, continuously running craft fair in the country, and it's also one of the Top 100 events in North America.

Plus, AARP members receive a $12 ticket – at the gate or online -- with their membership card. To receive the discount when ordering online, use the code SAVE2018.

Don't miss this fun, festival-like atmosphere with shopping, entertainment, and interactive activities for all ages and interests. From blacksmithing to pottery, textiles to printing, jewelry to fly tying, you can learn how it's made. Or, attend a workshop and make your own unique item. One-of-a-kind works made by over 350 Juried Craftspeople from all over New Hampshire will be on display, and there's always a variety of new things to see and do each day.

The Annual Craftsmen's Fair is a great learning adventure for friends, family, and kids. Hours are 10:00 to 5:00 daily, rain or shine. Here's a sneak peek of what you will find:

Handmade crafts from over 350 craftspeople
Daily craft demonstrations
Workshops for all ages
Guided tours with craftspeople
Living with Crafts exhibit
One-of-a-kind fashions and accessories at the CraftWear exhibit
Sculpture garden
Strolling performances featuring oversized puppets, magicians, mind readers, musicians, and much more!
New this year: New Hampshire craft beer and wine garden.
Check out all the details at www.nhcrafts.org And don't forget your AARP membership card to receive your $12 ticket price!