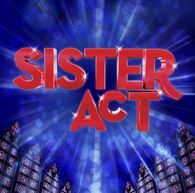 It's a comedy that is guaranteed to have you singing in the aisles!
Sister Act – A Divine Musical Comedy – comes to The Palace Theatre. There's more! AARP members and their guests receive a $10 per Adult ticket discount. The discounted performances will be held September 9 through October 1 at The Palace Theatre, 72 Hanover Street, in downtown Manchester. There are both 2:00 and 7:30 pm performances.
Sister Act tells the story of Deloris Van Cartier. This wanna be Diva's life is turned upside down after witnessing a crime. The cops hide her in the last place anyone would look – a convent! Now she finds herself under the strict watch of Mother Superior.
Called "ridiculously fun" by the New York Post, Deloris helps the sisters find their voices, with original music by Tony and 8-time Oscar winner Alan Menken. Sister Act is truly a reason to rejoice!
AARP members and their guests can purchase discounted Adult tickets online or by calling 603 668 5588. Tickets can also be purchased at the box office. To receive the $10 per Adult ticket discount, use the code ACTIVE.
Image compliments of The Palace Theatre