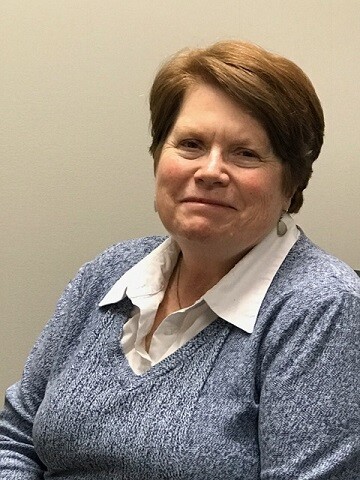 It's with great pleasure to announce that this Volunteer Spotlight will be featuring Eveleen Barcomb. Eveleen has "always loved numbers" and her professional background is in banking (23 years) and finance (20 years). She also worked briefly as a paralegal and through Easter Seals as an office manager for senior services. She is currently a financial representative with Primerica.

Eveleen was introduced to AARP New Hampshire through the 2014 Senior Leadership Series. Upon graduating, Eveleen recalls saying "OK, what's next? Can't do all this for naught – got to carry it forward." She was ultimately asked to help get the AARP Greater Manchester Volunteer group going, and served in a leadership role with the group for more than two years. From that point on, Eveleen has been a part of many numerous activities through AARP including: tabling at events, helping at ice cream nights, Movies for Grownups and brewery and winery tours. She has provided insight during strategic planning meetings; helped plan a day-long Volunteer Summit; and has assisted in bringing on new volunteers through recruitment events. She has also been instrumental in preparing the launch of the Peer Mentor Program, where new volunteers will be matched with seasoned volunteers in an effort to seamlessly integrate them and make them feel welcome. In addition, Eveleen has been heavily engaged in AARP's campaign initiatives, participating in Politics & Eggs events and the Take-a-Stand campaign, which endeavored to get each 2016 presidential candidate to lay out their plan for making Social Security solvent. Currently, Eveleen serves as a member of the Greater Manchester Community Planning Team and in a leadership role as an Executive Council member.

In Eveleen's spare time, she enjoys bike-riding, reading, attending plays, going to the movies, attending concerts and visiting craft breweries with friends as well as cross country skiing. Recently, she has taken up ukulele lessons. She is both a lector and a Eucharistic minister at St. Catherine of Siena in Manchester and she also does platelet donations through American Red Cross. Eveleen has 2 children and 5 grandchildren.

For Eveleen, volunteering with AARP has been an invaluable experience. Not only does she gain satisfaction from being able to volunteer her time for the benefit of others, she also enjoys sharing her gifts and developing friendships with other volunteers. Her advice to someone who wants to get involved with AARP is straightforward: "Come to a monthly volunteer meeting in your area and meet a few folks." This way, interested people can learn about upcoming activities and events as well as get a feel for what's happening. Eveleen reassures that it's "okay to go at your own pace."

Considering how involved Eveleen is with AARP, it might come as a surprise that she considered herself an introvert before becoming involved. Now, though, she enjoys talking about issues that are important to her. According to Eveleen AARP is a "giving" organization – one that values its volunteers by reimbursing volunteer mileage and expenditures and offering ice cream, movies, event tickets and drink tickets. "They make sure volunteers are taken care of, showing they really care!" Eveleen says. It's truly an honor to recognize Eveleen Barcomb and her achievements for this edition of the Volunteer Spotlight.