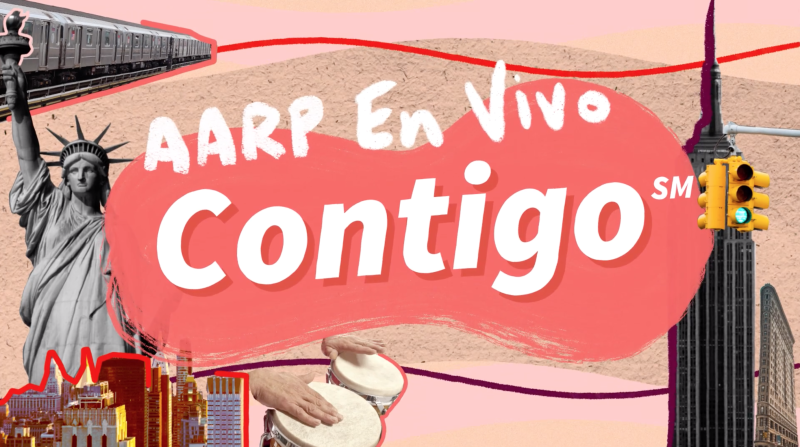 En español | Join us beginning this Thursday, August 13 at 5pm ET on Facebook Live to kick off our new digital series, AARP En Vivo Contigo in New York City!

AARP En Vivo Contigo virtually brings together our local communities and their families through this digital series of events featuring inspiring stories, food, music, and educational content from some of the best Latino/a chefs, DJs, and content creators. We may not be able to gather together in person, but we can still celebrate at every age and virtually, the things that keep us close -- like food, music, and helpful content!

The series will consist of 6 episodes, three focused on cooking, and three focused on music. Chef Gabriela Alvarez, an award-winning Puerto Rican "Culinary Artist," will host our cooking segments while your favorite Radio Personality, Producer, and DJ Ralphie Mercado will host virtual dance parties with lively music and stories.

All episodes will be available on AARP NY's Facebook page.


Event Dates:

Thursday, August 13th, 5pm ET: Cooking with ingredients in your pantry/ Cocina con lo que tienes en la alacena - Chef Gabriela Alvarez will share one of her favorite recipes using staples from the pantry - Download the recipe here.
Wednesday, August 26th, 5pm ET: Virtual Dance Party/ Fiesta y baile virtual - Dance and party with DJ Ralphie Mercado!
Wednesday, September 9th, 5pm ET: Caldo for Caregivers/ Caldo para cuidadores
Friday, September 18th, 5pm ET: Virtual concert "En La Casa"/ Concierto virtual "en la casa"
Wednesday, September 30th, 7pm ET: Chef Cook-Off/ Competencia de chefs
Thursday, October 15th, 7pm ET: Virtual Dance Party Finale/ Final de la fiesta y baile virtual
Bookmark this page to check back on upcoming dates or connect with us on Facebook, Twitter, or Instagram: @aarpny