New York City's primary election for mayor, city council and other local offices is approaching, with options for voting safely amid the coronavirus pandemic.

Any registered voter may request a mail-in absentee ballot and vote safely from home.
Early in-person voting is open from June 12 to June 20.
The primary is on June 22; the general election is on Nov. 2.
Voters will have the to option to use ranked-choice voting for the first time.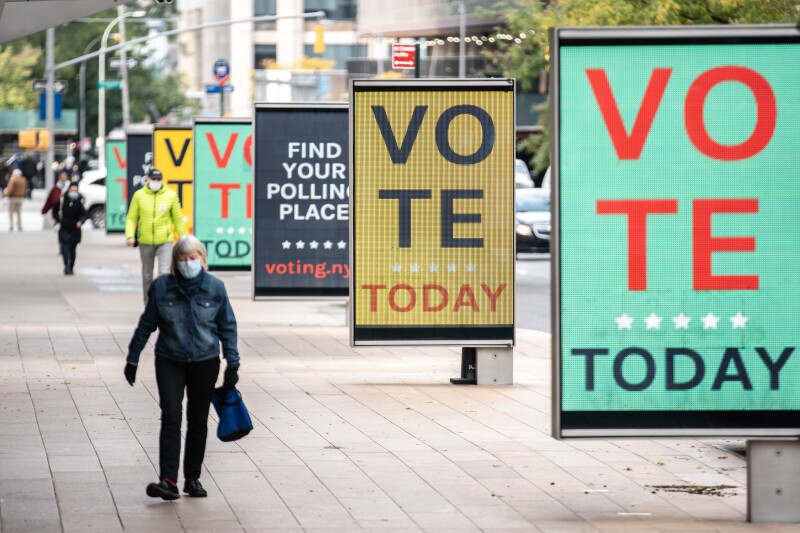 How do I register to vote?

Register online at the New York State DMV website. You'll need a valid ID from the New York State Department of Motor Vehicles, which can be a driver's license, learner's permit or non-driver ID. If you don't have a DMV-issued ID, you can register by mail or in person.

Register by mail by downloading the application from the New York City Board of Elections (BOE) website. Complete the form, sign it and mail it to: Board of Elections, 32 Broadway, 7th Floor, New York, NY 10004-1609

Your application must be postmarked no later than May 28 and received no later than June 2 to vote in the primary.

If you are unable to access the internet or a printer, you may pick up a form at your local Board of Elections office or by calling the office at 866-868-3692 (212-487-5496 if you're hearing-impaired) to request that a registration application be mailed to you. Information is available in English and Spanish.

Register in person at one of the city's six election offices. If you don't have internet access, call the city election's office at 866-868-3692 for information on registering in person at election offices. The registration deadline is May 28.

How can I get an absentee ballot? Are there important deadlines?

Due to the COVID-19 pandemic, any voter can request an absentee ballot for the June primary and for the general election in November. If you are affected by COVID-19, check the box for "temporary Illness" on the application. The definition has been temporarily expanded to include the risk of contracting or spreading a disease, including COVID-19.

Your absentee ballot application must be postmarked by June 15 to vote in the primary. The deadline to apply in person for an absentee ballot is June 21.

You can request an absentee ballot online, over the phone or in person at a New York City Board of Elections office.

Online: Fill out an application for an absentee ballot on the city Board of Elections website. If you are visually impaired or have a disability that requires you to use an absentee ballot that can be read by a screen reader, request an accessible ballot on the city election website. Track your request online.

By mail and in-person: Download the absentee ballot application from the city Board of Elections website, fill it out and email it to apply4absentee@boe.nyc. Or print and mail it to a Board of Elections office or drop it off at your borough's Board of Elections office.

If you need an absentee ballot application mailed to you, call the city elections office at 866-868-3692 or email AbsenteeHelp@boe.nyc. Information is available in English and Spanish.

U.S. military or overseas absentee ballots:

Use the Federal Post Card application to request an absentee ballot if you or your family are in the military or you reside overseas. This application will register you to vote and will also serve as your absentee ballot application for two federal general election cycles. For more information, call the New York State Board of Elections at 518-474-1953 or visit its website, or contact the Federal Voter Assistance Program at 800-438-8683.

When is Election Day? When are the polls open?

The primaries are on Tuesday, June 22. Polls are open from 6:00 a.m. to 9:00 p.m.

Can I vote in person before Election Day?

Yes. Early voting is open from June 12 through June 20. Early voting sites differ from Election Day polling places. Locate your early voting or Election Day polling place on the city's Board of Elections website. You can vote early in person even if you've requested an absentee ballot. Just go to your polling site and cast your vote without using your absentee ballot.

Do I need identification to vote?

Registered voters do not need to show ID to vote unless they did not include it with their registration. First-time voters must provide ID when registering. If you do not provide identification by Election Day, you may vote by affidavit ballot.

Acceptable identification:

driver's license number
non-driver's ID number
last four digits of your Social Security number
If you did not provide your driver's license number or Social Security number on your registration, you can include a copy of any of the following documentation with your absentee ballot application:

current valid photo ID
current utility bill
bank statement
government check or paycheck
government document that shows name and address
What is being done to make polling places safe from the coronavirus?

According to the New York City Board of Elections, every person is required to wear a mask or face covering and maintain six feet of distance when entering any elections facility.

The BOE says it's working to make sure all polling sites will be as clean and safe as possible on Election Day, but it is advising voters to cast their ballots early or by mail. The same precautions are being taken for early voting sites, with masks, social distancing and hand sanitizer required and poll workers behind plexiglass.

What is ranked-choice voting and how does it work?

Ranked-choice voting allows you to rank up to five candidates in order of preference: your first-choice candidate, your second-choice candidate and so on, up to your fifth-choice candidate. New York City will use ranked-choice voting in primary and special elections for mayor, public advocate, comptroller, borough president and city council.

Ranked-choice voting eliminates the need for runoff elections. If no candidate gets a majority of the vote, the last-place candidate is eliminated, and his or her votes are parceled out to relevant voters' second choices. A new tally is conducted to determine whether any candidate has won a majority of the adjusted votes. The process is repeated until a candidate wins an outright majority and is declared the winner. There's more information on the New York City elections website.

What races are on the ballot?

Mayor
Comptroller
Public Advocate
City Council (35 of 51 seats)
Borough President for the Bronx, Brooklyn, Manhattan and Staten Island
District Attorney for Brooklyn and Manhattan
NOTE: District attorney is a state office and therefore will not use ranked-choice voting.

An updated list of candidates is available on the New York City Campaign Finance Board website.

Also of Interest: