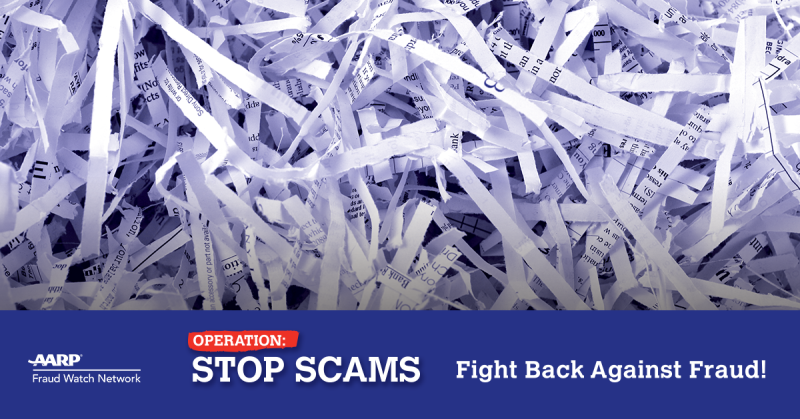 * UPDATE *
Please check back for a later date as we are temporarily postponing our Operation Stop Scams shred events for 2020 in light of COVID-19.

AARP NY is sponsoring free shred events as part of "Operation: Stop Scams," a series of free shredding events around the state, from Upstate to Long Island. We are helping people fight back against fraud and help protect them from identity theft by shredding truckloads of sensitive personal documents.

Local officials will join AARP staff and volunteers at several events to help warn consumers about the growing problem of identity theft and provide important tips on how to protect themselves. Individuals may bring up to three grocery bags of paper documents for shredding. Metal, plastic and other materials may damage shredders and will not be accepted. Shredding trucks will stay on site for the time scheduled or until they reach capacity. Third parties are performing all shredding services. Documents and information provided for shredding are subject to those parties' privacy and informational security policies.

Join us on the following dates/times:

New York City:


Upstate New York:


Long Island:


Every two seconds someone's identity is stolen, and 16.7 million Americans were victimized by identity fraud last year. Overall fraud incidence climbed eight percent. A whopping 90 percent of New York Generation Xers and Baby Boomers called the prevalence of fraud, including identity theft, a "significant problem" for New Yorkers – with 63 percent saying it's a "very significant problem," according to a 2016 AARP NY/Siena College survey.

For New Yorkers who cannot attend an Operation: Stop Scams event, security experts urge consumers to shred the following types of materials to avoid having sensitive information compromised:


Old documents: Papers that carry your Social Security number, birth date, signature, account numbers, passwords or PIN numbers.
Banking: Canceled or unused checks. Shred deposit slips and ATM and credit card receipts, once you receive your monthly statements.
Credit Cards: Preapproved credit card applications and incentive/gift checks from credit card companies.
Medical: unneeded medical bills.
Investments: Investment account statements.
Obsolete ID cards: Expired driver's licenses, medical insurance cards and passports.
The AARP Fraud Watch Network was launched in 2013 as a free resource for people of all ages. The website provides information about fraud and scams, prevention tips from experts, an interactive scam-tracking map, fun educational quizzes, and video presentations featuring Frank Abagnale. Users may sign up for "Watchdog Alert" emails that deliver breaking scam information, or call a free helpline at 877-908-3360 to speak with volunteers trained in fraud counseling.

Shredding services will be performed by a third party. All documents and information provided for shredding are subject to that party's privacy and informational security policies.

More information on how to keep safe from identity theft fraud, and alerts regarding other types of scams, is available from the Fraud Watch Network.