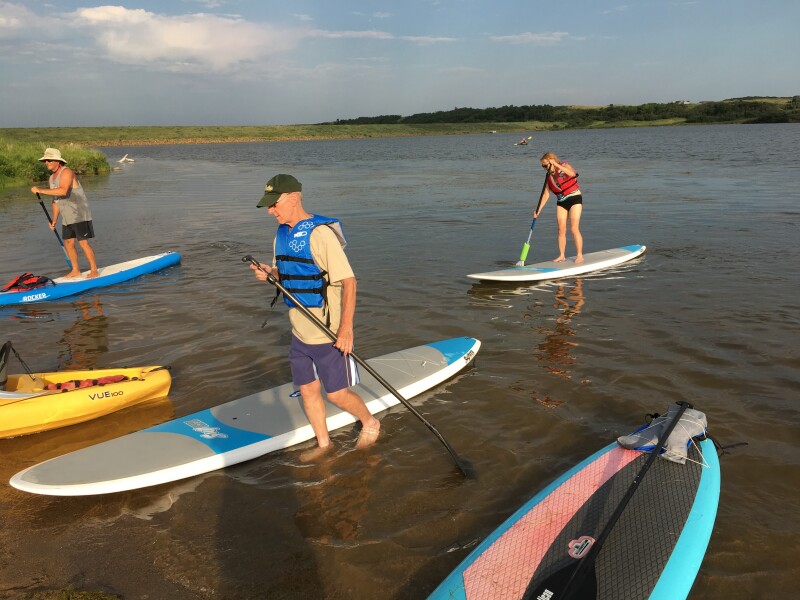 Welcome to the second season of the Passport to Healthy Living program in Bismarck-Mandan. Join AARP at one or more of these free events in Bismarck-Mandan that focus on health and wellness. You'll have a chance to meet new people, have some fun, enjoy new experiences, and live a more healthy life.
If you participate in four or more activities and bring your stamped Passport to the December 3 holiday party open house, you'll receive a special gift.
There is no charge to attend any of these events, but pre-registration is required. Register for each event separately by clicking on the event title.
Passport Preview & Dancing FUNdamentals
6:30 – 8:30 p.m.
Wednesday, April 24
Bismarck Elks Lodge
900 South Washington Street
Join AARP for the "Passport to Healthy Living" 2019 kickoff event and dance for your wellness! Learn the basic two-step, waltz, and do some line dancing. No need to come with a partner. And you can learn more about other upcoming healthy living activities in Bismarck-Mandan.
Golf Tips & Foot Golf
6:30 – 8:00 p.m.
Wednesday, June 12
Mandan Municipal Golf Course
1002 7th Street Southwest, Mandan
Whether you're a novice or an expert, bring your clubs and learn a few golf tips and techniques from the pros. Check out the growing sport of foot golf, a family-friendly activity using soccer balls. Plus, enjoy a beer on us while you're there!
Let's Take A Hike
6:30 – 8:00 p.m.
Thursday, June 20
Fort Abraham Lincoln State Park
4480 Fort Lincoln Road, Mandan
Meet up at Fort Abraham Lincoln State Park and learn about the hiking trails. Then, hike with a group or at your own pace and enjoy a summer evening along the Missouri River. If you have a park pass, use that for entry; or AARP will cover your one-day vehicle entry fee.
Kayaking & Stand-Up Paddleboarding
6:30 – 8:00 p.m.
Wednesday, July 17
Harmon Lake Recreation Area, 3244 Harmon Lake Road, Mandan
Learn the basics of kayaking and stand-up paddleboarding. Take a test run on a kayak and/or stand-up paddleboard in a comfortable environment, with guidance from experienced leaders. Meet up at the boat ramp. Bring your own life vest or one will be provided. Waterproof shoes/sandals are suggested.
Pickleball Primer
6:30 – 8:00 p.m.
Tuesday, July 30
Horizon Park, 4800 Durango Drive, Bismarck
Get the scoop on this fast-growing sport that is low-impact and easy for beginners to learn. We'll provide the equipment needed for this demonstration class. Participants should wear athletic shoes.
Cooking for Healthy Living
Register for only one class: 3:00 – 4:30 p.m. or 6:00 – 7:30 p.m.
Thursday, October 24
BisMan Community Food Co-op, 711 East Sweet Avenue, Bismarck
Get cooking tips, recipes and ideas to help you prepare nutritious, healthy meals. Learn meal planning and food purchasing techniques from the NDSU Extension Service to make your meals healthy and economical.
Learn to Curl
6:30 – 8:00 p.m.
Thursday, November 7
VFW Sports Center, 1200 North Washington Street, Bismarck
Come out and try sliding a 40-pound granite rock down a sheet of ice while sweeping your way to the target at the other end. Wear loose/stretchy pants and dress in layers. The temp on the ice is about 35-40 degrees. No street shoes are allowed on the ice. Bring shoes that have some traction and free of sand, grit, and dirt.
Holiday Open House Party
5:30 – 7:00 p.m.
Tuesday, December 3
Sixteen03 Main Events, 1603 East Main Avenue, Bismarck
Join your friends and neighbors for some holiday treats and refreshments, and share your thoughts and ideas on healthy living activities for 2020!
AARP Passport to Healthy Living program is provided in cooperation with the Bismarck Parks & Recreation District, the Mandan Park District, Fort Abraham Lincoln State Park, BisMan Community Food Co-op, and the Capital City Curling Club.