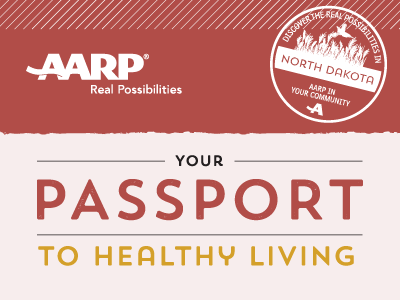 Welcome to the Passport to Healthy Living program. Join AARP at one or more of these free events in the Fargo-Moorhead-West Fargo area that focus on health and wellness. You'll have a chance to meet new people, have some fun, enjoy new experiences, and live a more healthy life.
We still have several events coming up yet this year. If you participate in four or more activities and bring your stamped Passport to the December 4 holiday party open house, you'll receive a special gift.
There is no charge to attend any of these events, but pre-registration is required. Register for each event separately by clicking on the event title.
Symphony 101
6:30 p.m.
Friday, September 27
NDSU Festival Concert Hall
12th Ave. N. & Bolley Drive, Fargo
Get a behind the scenes look at the FM Symphony Orchestra during their dress rehearsal evening, complete with explanations and conductor commentary. The concert theme is "The Planets" featuring Gustav Holst's, The Planets as well as music from John Williams, Star Wars. Attendees are welcome to stay for the entire two-hour rehearsal, or may leave during the mid-evening break.
Cooking for Healthy Living
Register for only one class: 3:00 – 4:30 p.m. or 6:00 – 7:30 p.m.
Wednesday, October 16
Sons of Norway, 722 2nd Ave. N., Fargo
Get cooking tips, recipes and ideas to help you prepare nutritious, healthy meals. Learn meal planning and food purchasing techniques from the chefs and culinary artists at the Prairie Roots Food Co-op to make your meals healthy and economical.
Learn About Curling
6:30 – 8:00 p.m.
Tuesday, October 29
FM Curling Club
4300 23rd Ave. S., Fargo
Come out and try sliding a 40-pound granite rock down a sheet of ice while sweeping your way to the target at the other end. Wear loose/stretchy pants and dress in layers. The temp on the ice is about 35-40 degrees. Learn more about curling from the folks at the FM Curling Club and get a feel for the ice!
Holiday Open House Party
5:30 – 7:00 p.m.
Wednesday, December 4
Sanctuary Events Center
670 4th Ave. N., Fargo
Join your friends and neighbors for some holiday treats and refreshments, and share your thoughts and ideas on healthy living activities for 2020!
AARP Passport to Healthy Living program is provided in cooperation with the West Fargo Park District, the Fargo Park District, Northern Lights Ballroom Dance Club, StreetsAlive!, FM Symphony Orchestra, Prairie Roots Food Co-op, and the FM Curling Club.