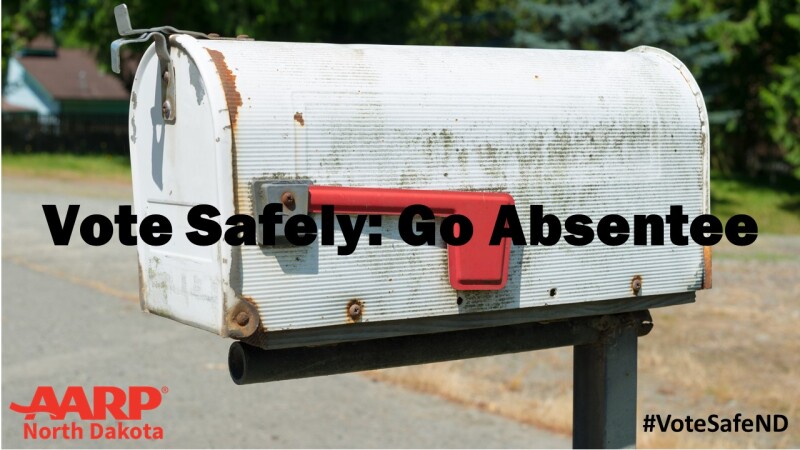 Amid the coronavirus pandemic, AARP is encouraging North Dakotans to stay safe by voting absentee in the Nov. 3 general election.

The state converted its June primary to an entirely vote-by-mail election, with generally positive results. Now, AARP North Dakota is urging residents who want to vote from home this fall to apply for an absentee ballot by Friday, Oct. 23. The first day to vote absentee is Sept. 24.

Voters don't have to be registered but do need to apply for an absentee ballot. They may request one from their county auditor's office or online at vip.sos.nd.gov/absentee.

Voters also must have valid identification, such as a driver's license or state-issued ID card; they can enter their ID number online without needing to scan an image of the card.

Voters must return their ballots postmarked by Monday, Nov. 2 (one day before the election), or drop them off at their county auditor's office.

In addition to selecting a presidential candidate, North Dakotans will vote for governor. Republican incumbent Doug Burgum is running against Democratic-NPL candidate Shelley Lenz.

Voters will also choose the state's lone U.S. representative. Republican incumbent Kelly Armstrong is facing off against Democratic-NPL challenger Zach Raknerud.

And roughly half of all seats in the state legislature, which has 47 senators and 94 representatives in all, are up for election.

To help voters make informed choices, AARP is collaborating with Prairie Public, the state's public radio and TV network, to sponsor candidate debates.

Prescription drug costs are one critical issue that AARP wants lawmakers to address.

"Our aim is to get our state candidates talking about how they will get prescription drug prices reduced," said Josh Askvig, AARP North Dakota's state director.

Members want to know why they can't buy drugs from Canada, where prices are typically more affordable, Askvig said.

In AARP's 2018 Voter Issues Survey, 28 percent of people, when faced with the cost of the medicine they need, choose not to take it – not to pay for it. That's more than one in four. More recently, we asked what issues you care about most as you prepare to vote in November. As you can see from the graphic, 35 percent of respondents indicated prescription drug prices were important.

The pandemic "impacts every American's health and financial security," Askvig said.

AARP is also advocating for COVID-19 safety precautions for residents in long-term care facilities and for other vulnerable groups. If you are a U.S. citizen, you have the right to vote regardless of where you live. Read this voter guide for residents and tenants of long-term care facilities.

Go here for more on AARP North Dakota advocacy efforts.

—David Lewellen is a writer living in Glendale, Wisconsin.