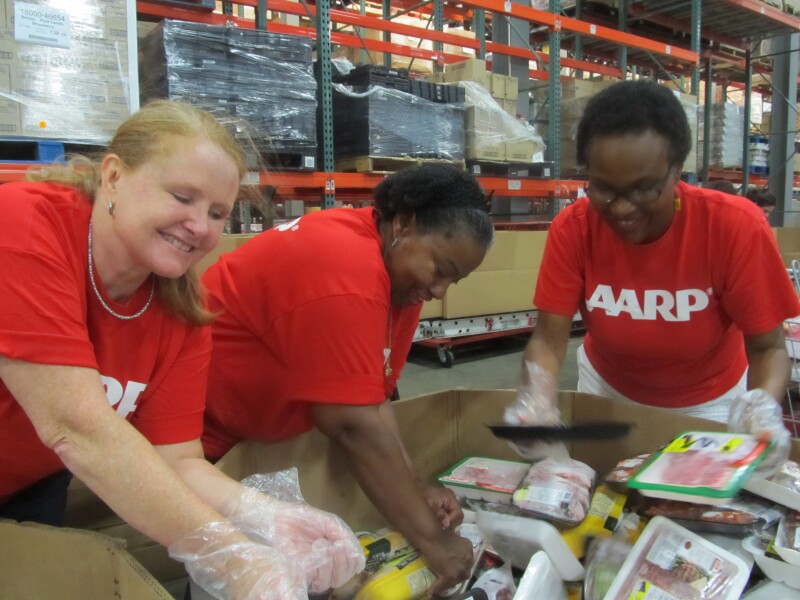 Are you looking for a fulfilling volunteer experience? If you want to put your skills to work as a volunteer, making an impact in your community, check out the opportunities we have to offer at AARP!
From making communities more livable for people of all ages, fighting back against fraud and scams or helping to create a healthier Tennessee, we've got lots of opportunities to make a difference in the lives of people 50+ and their families.

CURRENT OPPORTUNITIES IN TENNESSEE

Volunteer Leader - Jackson
AARP is looking for volunteers to help lead our work in Jackson and the immediate surrounding areas. This role serves as a subject matter expert, working with community to support AARP priority areas like fraud prevention, livable communities and health security. Main focus areas include increasing community transportation options, affordable housing and social inclusion.

Work closely with elected officials, and develop partnerships with key influencers and organizations.
Plan and support activities that promote healthy behaviors and fraud prevention.
Serve with AARP staff and other volunteers to share ideas, and make a positive impact on the lives of people 50+.
Resume required. Some travel required. Leaders are expected to be willing to use technology and must have email & internet access.
APPLY NOW >>
AARP Tennessee Volunteer Support Team
We are looking for a reliable, self-starter who works well under deadlines to join our network of volunteers.This is an ideal remote/telework position to give back from the comfort of your home.

Work closely with the team leads assisting with basic data entry, tracking and reporting.
Data entry experience is helpful.
Must have experience with Microsoft Excel and access to high-speed internet with the ability to work from your home computer.
APPLY NOW >>

Advocacy Volunteer - Congressional District Lead
We are looking for someone who would enjoy serving as an advocate for AARP policy issues in support of people 50+. There are currently two positions open: District 4 and District 6.

Must live in either TN Congressional District 4 (Rep. Scott DesJarlais) or TN Congressional District 6 (Rep. John Rose)
Able to network and build relationships with member of Congress and their staff.
Support AARP policy agenda at the direction of AARP TN Associate State Director, Advocacy and CDL Lead Volunteer.
Tasks include emails, phone calls and in-person meetings with member of Congress.
Must have email and internet access.
APPLY NOW >>
AARP Tennessee State Office Volunteer
We're seeking a volunteer who is willing and able to come into the state office (downtown Nashville) to perform administrative work in support of AARP Tennessee.

Able to work one day per week (preferably Thursday but day is negotiable) from 10:30 – 4:00.
Have computer experience; especially Word, Excel helpful, and knowledge of office equipment; i.e., copier and postage machine.
Work without constant supervision and complete tasks in timely manner.
Familiarity with Microsoft Office software is helpful. General training provided.
Please send inquiries to Tnvolunteer@aarp.org@aarp.org
AARP Foundation Tax Aide
We're looking for compassionate and friendly individuals to provide assistance to all taxpayers, especially those 50 and older who can't afford a tax preparation service. Experience isn't necessary- we provide training and IRS certification on the latest tax law, forms and software. Roles include:

Client Facilitators: welcome taxpayers, help organize their paperwork and manage overall flow of service.
Tax Counselors: work with taxpayers directly, filling out tax returns and helping them find the deductions and credits they've earned.
Technology Coordinators: manage computer equipment, ensure taxpayer data is secure, and provide technical assistant to volunteers at multiple sites. Leadership and Administrative volunteers: make sure program operations run smoothly, manage volunteers, track site activities and maintain quality control.
Communications Coordinators: help promote the program to keep it going strong.
Tax preparation experience is helpful, but not necessary; training provided. Time commitment varies based on the position. Site hours vary by location.
APPLY NOW >>
Driver Safety Volunteer Instructor
Become a part of the safe driving solution in your community, teaching and organizing the award-winning AARP Smart Driver™ classroom course curriculum.

Teach Smart Driver courses in English at your assigned location.
Actively organize, promote, and conduct at least three AARP Smart Driver classroom courses annually.
Requirements: Strong and demonstrated experience teaching, facilitating or public speaking. Ability to empathize and work with diverse populations. Working knowledge of video technology, access to e-mail and the internet.
APPLY NOW >>
Not sure what you'd like to do?
Just complete our online interest form and we'll be in touch to find the perfect volunteer role for you!
Of course, if you have questions, you can always email them to the AARP Tennessee Volunteer Support Team: Tnvolunteer@aarp.org