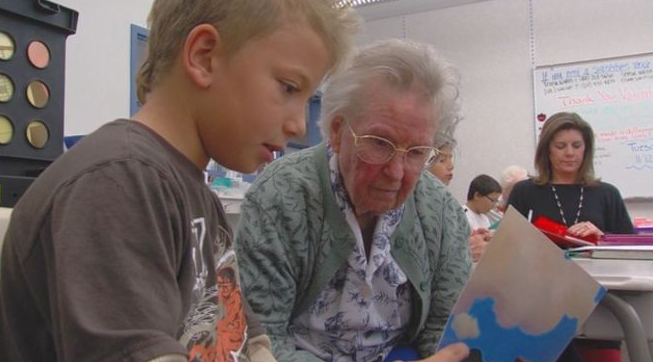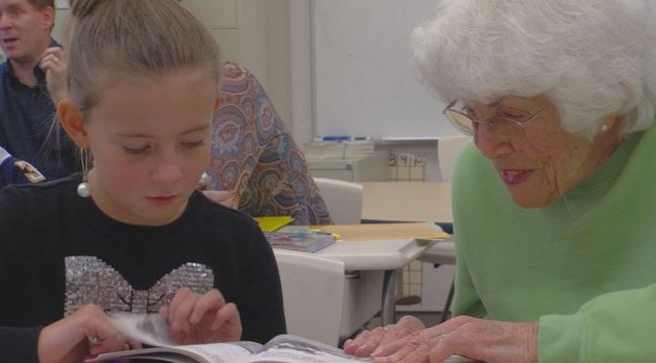 At 95, Lucille Bingham has long since served time at the nightly homework table with her own children. Still, she volunteers twice a week to read with a sixth grade girl at Eagle Bay Elementary.

"We come to hear them read and correct them if they're making errors," said Bingham.

She is part of a growing network of retirees who have already raised their children through Utah's public school system, and in some cases taught school themselves, who now have the time and desire to continue shaping young lives.

KSL's Read Today tutoring program provides a way for them to teach another generation of children.

To find out more information about Read Today or to volunteer, go to Readtoday.com.

"I like reading with her because she helps me with the words, and she's nice about it," said Bingham's charge Abigail Wright.

More than 70,000 Utah students struggle to read at grade level. And the statistics for them can be bleak. Students who don't read proficiently by third grade, are four times more likely to drop out of high school.

With the help of a tutor and additional one-on-one reading time, the results have been impressive. Last year, none of the 3,600 students in Read Today started the year reading at grade level. By the end of the year, 85% of them finished at grade level.

Helping students improve their reading skills is just one reason Dauna Seager volunteers with Read Today. She and several friends from the Country Care Center Assisted Living Center ride their shuttle bus to Eagle Bay Elementary because the opportunity to serve gives their day added purpose.

"It's much better than just sitting, wasting away in the care facility," says Seager. "Makes me feel there must be some usefulness in this old girl," she laughs.

And that very day, Seager gets confirmation this "old girl" is making a difference. As she said she considered her student Spencer to be a friend, he quickly responded, "Oh, I consider her to be my friend, too!"

That scenario is playing out all over the state as retirees go back into their neighborhood schools. One by one they are strengthening skills and creating bonds that are rewarding to both.

"When we drive home, they are just glowing about how little Spencer did or Kaitlyn did on her reading," said Greg Barlow, Country Care Assisted Living. "So really, we're the ones who are benefiting the most."

To find out more information about Read Today or to volunteer, go to Readtoday.com.