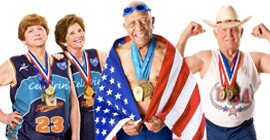 AARP Utah would like to invite you to a free showing of the PBS-bound documentary Age of Champions!

Age of Champions tells the story of five competitors who sprint, leap, and swim for gold at the National Senior Olympics. You'll meet a 100-year-old tennis champion, 86-year-old pole vaulter, and rough-and-tumble basketball grandmothers as they discover the resilience of the human spirit and triumph over the limitations of age.

The event is free and open to the public and will feature a Q&A with filmmaker Keith Ochwat as well as a community discussion about aging, health, and fitness with AARP's You've Earned a Say program representative. Be sure to RSVP to reserve a seat for you, your friend, and family!

Age of Champions screening event details:

DATE: Wednesday, December 12
TIME: Doors open at 5:30pm/ Event begins at 6pm
LOCATION: The Salt Lake City Library
ADDRESS: 210 East 400 South, Salt Lake City, UT 84111

Watch the trailer/ RSVP:
1-877-926-8300 OR ageofchampions.org/UT

"The characters in the film show us that nothing is impossible," says Age of Champions director Christopher Rufo. "Whatever your age, it's never too late to pursue your dreams and achieve something great. Senior athletes all over the country show us a way to live longer, healthier, and happier lives."

AARP Utah's own Ruby Hammel, a member of the Utah Tennis Hall of Fame, will discuss her experiences as a senior athlete, and we'll hear from the film's producer, Keith Ochwat. Ag e of Champions premiered at the prestigious Silverdocs Film Festival in Washington DC and was called "infectiously inspiring" by the Washington Post. In addition to filmmaking, Keith teaches the Doc School, an innovative youth media program for high school students in Sacramento, California. He is now leading the Age of Champions National Outreach Campaign to screen the film at senior centers, senior living communities, universities, and other community venues over the next year. He has been invited to participate in a number of expert panels alongside aging policy and advocacy experts to give his perspective on active aging.

AARP believes amazing things are possible at any age, and 'Age of Champions' is a perfect example of inspiring, older athletes who pursue their goals and dreams at the National Senior Olympics. That's why AARP is proud to sponsor this screening as part of 'You've Earned a Say,' a national conversation about the future of Social Security and Medicare. Programs like Medicare and Social Security provide retirement security that help these athletes and Americans across the country live their best lives. Medicare and Social Security are the foundation of retirement security for millions of Americans and they need to be strengthened for today's seniors and future generations. Americans deserve the facts, and they're not getting them from Washington. It is our hope that these compelling stories of older, competitive athletes will inspire a continued national dialogue, because Utahns have earned a say.

If you can't make the screening on December 12, make sure to visit www.earnedasay.org to have your voice heard on these important issues.