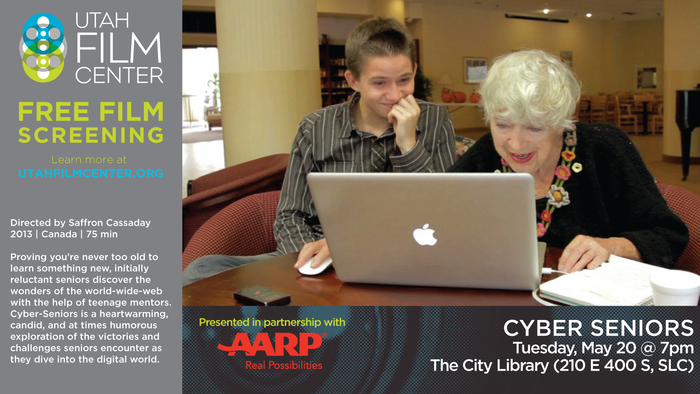 Do you want to see a heartwarming documentary about seniors learning about new technology? Join AARP Utah at the screening of " Cyber Seniors," a film that proves you're never too old to learn something new. Initially reluctant seniors discover the wonders of the web with the help of teenage mentors. This humorous and candid film explores the victories and challenges seniors can face as they dive into the digital world.

The documentary will be screened at the City Library, 210 East 400 South, in Salt Lake City on May 20 at 7:00 pm. Admission is free and the film is open to the public. No registration is required. If you have an interest in technology and teaching, please let us know at the film as we are also recruiting volunteers to help teach classes to seniors about how to use Facebook, Twitter, and other electronic means of communication.

Reaching over 38,000 film lovers annually, the Utah Film Center brings the world of film to local audiences though free screenings and post-film discussions, outreach programs, and visiting artists and professionals. Emphasizing social content and artistic excellence, the Utah Film Center presents the best documentary, independent, and dramatic cinema year-around to communities throughout Utah.

They collaborate with various educational and community organizations to promote a diversity of ideas, to provide forums for underrepresented groups, and to develop new audiences for film. Among others, their collaborators include the University of Utah, the Natural History Museum of Utah, KUER, and the Sundance Institute. The film content presented includes a wide range of topics ranging from science and art, to civil rights and environmental issues. AARP Utah is glad to have the Utah Film Center as a partner to bring films of importance to the state.