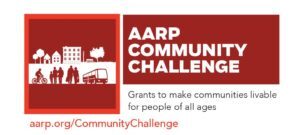 AARP is now accepting applications for the 2018 Community Challenge grant program to fund "quick-action" projects that benefit local communities. The grant program is part of AARP's nationwide Livable Communities initiative, which aims to make communities great places to live for everyone.

The Community Challenge is open to 501(c)(3), 501(c)(4) and 501(c)(6) nonprofits and government entities and other types of organizations will be considered on a case-by-case basis. Projects may range in scale from small, short-term activities costing hundreds of dollars to larger projects with budgets of a few thousand dollars. The program will accept applications in the following categories for 2018:

delivering a range of transportation and connectivity options in the community through permanent or temporary solutions that increase walkability, bikeability, wayfinding, access to transportation options and roadway improvements
creating vibrant public places in the community through permanent or temporary solutions that activate open spaces, improve parks and improve access to amenities
supporting the availability of a range of housing in the community through permanent or temporary solutions that increase accessible and affordable housing options
other innovative projects to improve the community


"The AARP Community Challenge Program is aimed at improving the quality of life for people of all ages in communities nationwide," said AARP Utah State Director, Alan Ormsby. "There are tremendous opportunities for communities across Utah and we encourage eligible entities to apply for these quick-action grants to make their communities more livable for all."

In 2017, AARP awarded 88 grants through the Community Challenge to nonprofit organizations and government entities representing every state. Please visit http://bit.ly/2017GrantWinners to see some of the 2017 winners in action, helping to revitalize alleyways, build dog parks, enliven underutilized public spaces and improve unsafe intersections.

Last year, AARP funded two projects in Utah:

Salt Lake City: Salt Lake County Aging & Adult Services | AccessibilityA new "Intergenerational Grocery Independence Project" served the low-income older adult residential communities of Friendship Manor and Wasatch Manor. The program created awareness about mobility challenges seniors face.
Salt Lake City: Seven Canyons Trust | Placemaking and BeautificationFunding was used to build community support for the completion of the final link in nearly 100 miles of continuous trail between Provo and Ogden, Utah. A community event kicked-off with a design workshop, family-friendly fun and a walking tour of the Folsom Trail.
AARP Utah works in collaboration with communities across the state, bringing people together and providing resources and expertise to help make Utah's counties, towns and cities great places to live for Utahns of all ages.

The application deadline is 5 p.m. ET, May 16, 2018, and all projects must be completed by November 5, 2018. Applications must be submitted through AARP.org/CommunityChallenge.