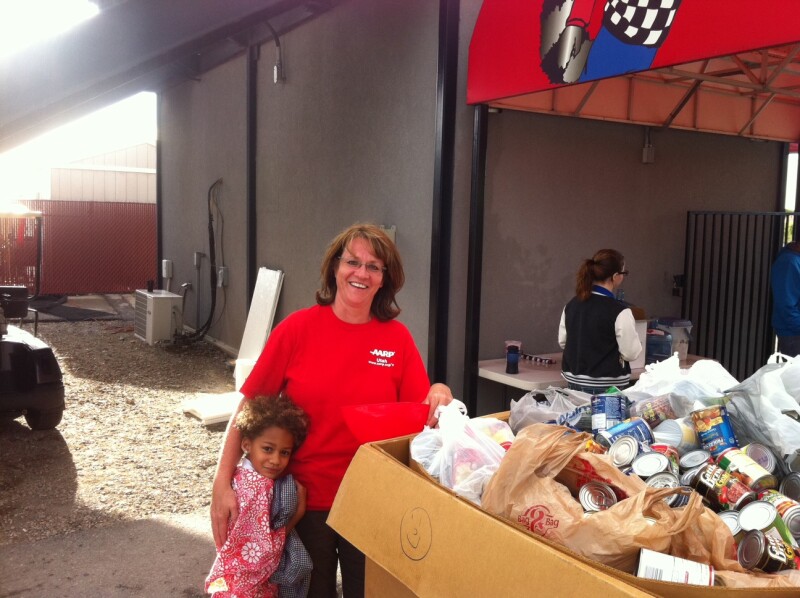 AARP Outreach Director Jill Duke and Lily Ormsby,

daughter of State Director Alan Ormsby.



Rocky Mountain Raceways might seem like an unlikely place for a food drive (no pun intended) but AARP Utah once again partnered with the Utah Food Bank to collect cans of food at the races on July 13. Last year, AARP Utah joined forces with the food bank to collect cans over three weekends in exchange for racing fans gaining free admissions to the Raceways. Just over 1000 cans of food was donated. This year, the collection took place over just one night on July 13 and nearly 4000 cans were contributed! That's a great testimony to the generosity of Utah Raceways aficionados and people in this state in general.

AARP Utah helps the Utah Food Bank in many ways throughout the year. The state staff delivers senior food boxes on a monthly basis, and our volunteers often make deliveries on a weekly basis. Our Executive Council also visits the food bank as an annual service project to pack boxes and sort food items.

If you're interested in helping the food bank, you can donate your time, money, or food items by clicking here or calling them directly at 801-978-2452. You can donate on a one-time basis or make it part of your regular routine.



According to the Utah Food Bank's website, 1 in 6 Utahns are at risk of missing at least one meal per day. This equates to 472,000 Utahns, or 17% of our population. Even more alarming is that 1 in 5 kids are unsure where their next meal is coming from. With help from Utahns last year, the food bank was able to donate over 34 million pounds, the equivalent of over 28 million meals, to families across the state. The food bank is based in Salt Lake City, but they can direct you to food pantries across the state.

For more information about how to volunteer through AARP Utah, contact Jill Duke at 1-448-3616.