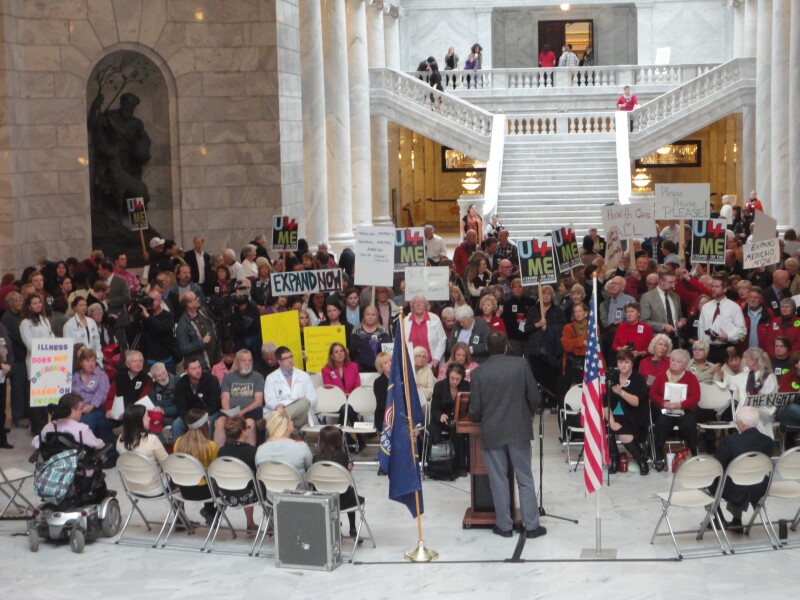 As you may have heard, there is a lot of news related to the Medicaid expansion. A Senate committee passed a bill that would partially expand health coverage meaning those living below the poverty level could get access to health insurance. But the federal government has said states need to expand up to 138% of the federal poverty level in order to get the enhanced match funds that have been offered. Just yesterday, Governor Herbert presented his plan to cover all Utahns below 138% of the federal poverty level. While there are still some wrinkles in the plan that need to be ironed out, we are encouraged by the fact that the Governor is proposing a plan that would cover the entire expansion population with an insurance that provides a good benefit to Utahns. We are looking forward to getting more details on the plan, how it would work and shaping it as it moves forward.

But given that there are only two weeks left in the session, we are running short on time. The Governor and the legislature need to move quickly to resolve this issue. That is why I am asking again for you to contact those who represent you and encourage them to do the right things before the session ends. Please take two minutes to follow this link to the form where you can submit your note and then forward it on to friends and family who also believe we need to do something to provide care to the most vulnerable in our state.

In addition, we continue to make good progress on other issues related to our mission:

HB 142, "Securities Act Amendments," was introduced and heard in committee this week. This bill would have removed regulation currently in place that protects consumers from high risk and possibly fraudulent investments. The Division of Securities testified against the bill along with AARP and the bill was defeated by the committee.
Both bills HB 267, "Aging and Adult Services Amendments," and SB 14, "Long-Term Care Partnership," which we have mentioned in past weeks have now made it through both the House and Senate and have been sent to the Governor for his signature.
Clean air is important to the health of all Utahns, but hits older adults especially hard. With that in mind, there are three issues with corresponding bills that we are supporting to make our communities more livable. First, we encourage the Governor to accelerate the timeline for implementing Tier III fuel and vehicle standards. Resolution HJR23, sponsored in the House by Rep. Arent and in the Senate by Sen. Valentine, would push our state toward early adoption. Second, because wood burning stoves put a considerable amount of dangerous small particulates into the air, we support efforts to reduce this pollutant. HB154, introduced by Rep. Arent and Sen. Bramble, provides funding to enforce existing law and help replace wood burning with cleaner alternatives. Finally, a pair of bills (HB121 and SB164) allow Utah's Division of Air Quality to set regulations higher than EPA minimums.


Thank you again for your continued support and involvement. When advocates like you speak up, we make sure the voice of older Utahns is heard.

Sincerely,

Danny Harris
Director of Advocacy, AARP Utah