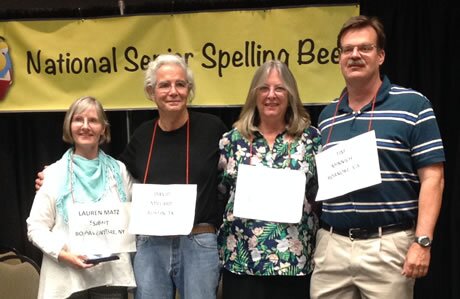 Many people may think of spelling bees as something for the younger set, but the National Senior Spelling Bee is open to anyone 50 years old or older. According to the Bee's website,

This orthographic contest will entertain and challenge you. You'll meet like-minded folks and compete with some of the best spellers in the nation. There are cash prizes for the winners, but the biggest remuneration is loads of fun.

The 2015 National Senior Spelling Bee will be held in Knoxville, Tennessee, on Saturday, July 18, 2015, 9:30 A.M. at the Knoxville Convention Center. To enter, simply fill out the entry form and send to Scott Firebaugh. Details are on the form.

If you need more information, send an e-mail to sfirebaugh@comcast.net

Lauren Matz Wins 2014 National Senior Spelling Bee

Lauren Matz, 55, from Olean, New York, won the 2014 National Senior Spelling Bee, held on July 12, 2014, in Knoxville, Tennessee, by correctly spelling all the words given to her during the oral finals. Some of those words were harmattan, sullage, bobeche, and iridescence. Lauren, who finished second in the 2013 AARP Senior Spelling Bee in Cheyenne, earned a first-place prize of $1,000.

David Millard, from Austin, Texas, finished second, earning $500 for his efforts. He had battled Lauren for 12 rounds before missing the word gittin, which means "documents of release from obligation in Jewish law."

Nancy Millard, David's wife, also from Austin, finished in third place and earned $300, marking the first time that a husband-and-wife duo has finished in the top three of this competition.

Tim Minnich finished in fourth place, which was a $200 prize.