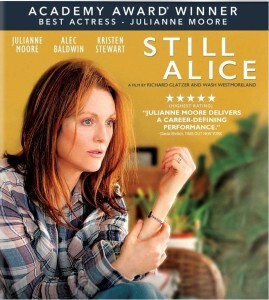 In connection with AARP's I HEART CAREGIVERS initiative, you are invited to watch a free screening of STILL ALICE and learn more about resources for family caregivers and their loved ones. The film will be shown on Thursday, June 18 at 7:00 pm at the Megaplex at Valley Fair Mall in West Valley City. Following the film, Ronnie Daniel, Executive Director of the Alzheimer's Association, Utah Chapter will be hosting a brief question and answer session. He will be joined by Jill Crowell, a woman living with early-stage Alzheimer's disease, and who will also be answering pre-selected questions.

I HEART CAREGIVERS works to recognize and support the 42 million Americans — including 382,000 Utahns — who perform a great labor of love every day — caring for older parents, spouses and others to help them live independently at home, where they want to be.

STILL ALICE stars Julianne Moore in her Academy Award-winning portrayal of Alice Howland, a renowned linguistics professor who starts to forget words. When this mother of three grown children receives a diagnosis of early-onset Alzheimer's disease, Alice and her family find their bonds thoroughly tested. Her struggle to stay connected to who she once was is frightening, heartbreaking, and inspiring.

Information about I HEART CAREGIVERS will be available at the event. Share your caregiving story now and learn more at www.aarp.org/iheartcaregivers. For caregiving resources, visit AARP.org/caregiving.

STILL ALICE is available on Blu-Ray/DVD on May 12. View the movie trailer online (link to: www.StillAliceFilm.com).

The Megaplex at Valley Fair Mall is located at 3620 South 2400 West in West Valley City. The film is free, but registration is required. To register, call 1-866-267-8131 or click here.