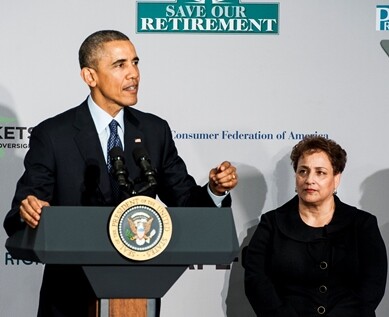 ​Many people don't realize their retirement accounts are in danger. While most accounts are in good hands, some brokers and advisors take advantage of clients, leading them to investments that just aren't in their best interest…and their clients don't have a clue.--President Obama.

by Linda Slaughter, AARP

President Obama is out to stop the drain on people's retirement investments caused by 'bad actor' advisors and brokers, and so is AARP. At a recent press conference hosted at AARP's national office, the President said, "Right now there are no uniform rules of the road that require retirement advisers to act in the best interest of their clients, and that's hurting millions of working and middle-class families."

The Problem?

There's a loophole in regulations for retirement investing dating back to 1975. It allows financial advisors to recommend investments for savings plans like Individual Retirement Accounts (IRAs) or 401(k) s that may not be in their clients' best interest. An advisor can recommend funds that have high fees or commissions that are beneficial to the advisor and their investment company, while eating away at their clients' accounts—and it's legal.

Yes, it's legal, but not ethical, and it costs American's upward of $17 billion every year as their retirement savings are gradually eroded through hidden fees, bad risk and bad investment advice. And that's the kicker. It's the trickle effect. No big losses to raise alarms, so investors don't even notice their money's being siphoned away. But when it comes time to retire, they may have lost as much as
25 percent of their retirement income.

All Advisors Aren't 'Bad Actors'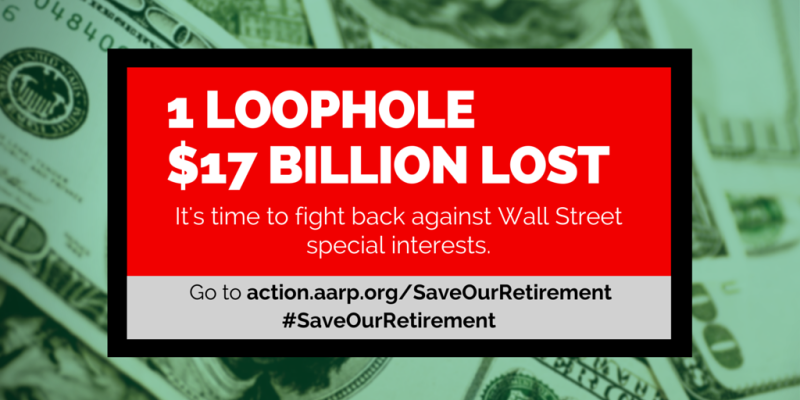 To be fair, most advisors and brokers are on the up-and-up. They're sincerely concerned about their clients' best interests. But those giving out bad advice to line their own pockets, willingly compromise their clients' ability to live their best lives in retirement. As CEO Jo Ann Jenkins stated at the press conference, "All advice should be in the best interest of the consumer. Bad advice is just wrong—period."

Without question, it's a conflict of interest and it's time to bring it to a screeching halt. AARP's been pushing for genuine accountability to protect millions of Americans who've worked hard to save for retirement. We've been quietly hammering away at the issue, but pockets of resistance are strong from Wall Street to the U.S. Chamber of Commerce to the halls of Congress.

However, with support from the President and Save Our Retirement, a growing coalition of consumer and worker advocacy groups that includes AARP, plus strong representation from the finance world, the tide may be changing. If new regulations are put in place, all financial advisers would be required to give advice that's solely in the best interest of their clients, not their own.


Close the Loophole Campaign

To that end, AARP Financial Security Campaigns Director Bill Brown and his team have laid the foundation for a very vocal and visible campaign: Close the Loophole.

"It's a new issue to many people, but not to AARP. For some five years, we've been working behind the scenes on strengthening the standards of accountability for those who provide investment advice to our members and to all Americans, particularly those with retirement funds," said Brown, speaking to volunteers on a Close the Loophole Campaign training call. "Now, after five years of relative obscurity," the White House has inserted itself into the equation and "that ramps up everything."

Already our online petition to the Department of Labor (DoL) for a rule change has garnered 15 thousand signatures, and 40 thousand email petitions have gone to Members of Congress. Over the next few weeks, state teams will gather signatures on hardcopy petitions.

Additionally, the April AARP Bulletin focuses on financial resilience, describing it as the ability to achieve financial independence and security throughout life. It also covers fallout for investors who've gotten bad advice, and features excerpts from the President's interview with Bob Love, editor of the AARP Bulletin and AARP The Magazine, highlighting the conflict of interest, 401(k)s and Social Security.

It's Time for a Change

No one should have to guess whether their broker's on their side and giving them advice in their best interest. Because if you guess wrong, by the time you figure it out, it's too late.

"Everyone who's giving financial advice—retirement or otherwise—should be held to the same high standard," said David Certner, AARP Legal Counsel & Legal Policy Director. "People who are trying really hard to save for retirement should be getting the best advice to have the strongest retirement income possible." And that's why it's time to Close the Loophole.