En español | Utah has offered universal mail-in voting since 2012, so many voters here have been casting their ballots from home for years:

Election Day is Tuesday, Nov. 3, and polls will be open from 7 a.m. to 8 p.m. Utah's voter information portal has more information about where to cast your ballot. Your polling place may be different this year, so check before you leave.
Be prepared for potentially long lines, and remember to take your mask and to follow social distancing measures at the polls.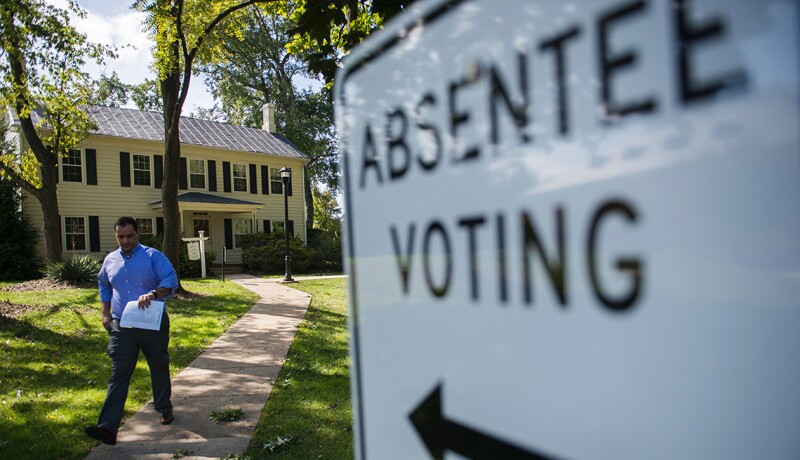 Here's what else you need to know:

How do I register to vote?

Voters can register online, by mail or in person. If you have a valid Utah driver's license or state ID, you can use the state's online voter registration portal. If you don't have one of these IDs, download and print a voter registration form and e-mail, mail or take it to your local county clerk's office. To vote in the November general election, the clerk must receive your registration by 5 p.m. on Oct. 23.

Utah allows voters to register in person at their local county clerk's office, provided they do so by 5 p.m. on Oct 23. Utah also allows Election Day registration for voters who bring identification and proof of residency — such as a valid driver's license — to their polling location.

How can I get a ballot? Where can I drop it off?

All registered voters should receive a ballot in the mail after ballots are sent out the week of Oct. 12. Some counties, but not all, provide prepaid postage. The post office has said it will deliver ballots without postage. Secure ballot drop boxes will also be available and are usually located in front of public buildings. Check with your local county clerk for locations near you. And if you're registered to vote but don't get a ballot in the mail, contact your clerk.

Mail-in ballots must be postmarked no later than Nov. 2, the day before Election Day. Or they can be hand-delivered to secure drop boxes by 8 p.m. on Election Day.

When is Election Day?

Tuesday, Nov. 3. In-person polling locations will be open 7 a.m. to 8 p.m. Monitor Utah's election information page to keep track of any changes to Election Day voting.

Can I vote before Election Day?

Early in-person voting will be available at your county clerk's office. Some counties have traditionally maintained several other early in-person voting locations as well. Early voting typically begins 14 days before Election Day, which is Oct. 20, and runs through the Friday before Election Day. Your county clerk's office will have the latest updates on where to cast your vote in person if you choose not to use your mail-in ballot.

How do I know my ballot is secure?

Utah has been using its universal mail-in voting system since 2012 and conducted the June primary almost entirely by mail, so the state has experience safely distributing and counting mail-in ballots. Among other measures, the signature on the ballot is verified against the signature on file before it's opened and counted. If there's a discrepancy, election officials will contact the voter and ask them to reconcile any issue with their ballot. Ballot discrepancies must be resolved by 5 p.m. on Nov. 16.

What is being done to make polling locations safe?

In-person voting was mostly canceled in June, but the volunteers who worked the drive-up locations were directed to practice social distancing, wear masks and take other precautions. Voters may also be required to wear a mask. Although Utah does not have a statewide mask mandate, some cities and counties — including Salt Lake, Summit and Grand — do have a requirement.

What are the key races?

U.S. President
U.S. House: All four seats
Governor: Spencer Cox (R) vs. Chris Peterson (D)
State House: All 75 seats
State Senate: 15 of 29 seats
This story was updated on Nov. 2 with more information about voting in person. Voting rules and procedures may change before Election Day. We'll update this story if they do, so bookmark this page and check back.

AARP is urging older Americans to ask the candidates 5 key questions:

Just over half of all older Social Security beneficiaries rely on the program for at least 50 percent of their income. If elected, how will you ensure that current and future Social Security benefits are not cut as part of deficit reduction?
Half of the people with traditional Medicare spend at least a sixth of their income on health care. If elected, how will you protect Medicare from benefit cuts, as well as lower health care costs and ensure seniors continue receiving the affordable health care they have earned?
COVID-19 has caused death and suffering for too many older Americans who require long-term care. If elected, how will you make sure seniors can access safe and affordable long-term care at home, as well as in facilities like nursing homes and assisted living?
Also of Interest