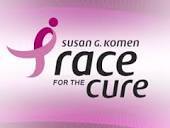 AARP Utah has an exciting opportunity for you to participate in a great cause and have fun while doing it. Join Team AARP Utah in the Susan G. Komen Utah Race for the Cure on Saturday, May 9 and we'll pay your registration fee! This offer is good for the first 20 participants. The race will begin at Library Square in Salt Lake City and comprises a 5k run/walk and 1-mile walk.



To register, go to www.komenutah.org. You'll be asked to enter a code, which is AARP2015. You will be contacted by us to receive your team t-shirts and team information for the day of the race. Early bird registration is good through March 15; if you're not one of the first 20 participants to qualify for free registration, you'll still get a discounted registration rate of $25.



This race honors, remembers, and celebrates lives touched by breast cancer and has raised millions of dollars to fund screening, treatment, education, and patient navigation services. Money raised has helped organizations such as Cancer Wellness House, Comunidades Unidas, the Maliheh Free Clinic, Utah Partners for Health, and many more. In addition to helping organizations with direct services, $2 million in research funds have been awarded to the Huntsman Cancer Institute since 1997.



We think participating in the Race for the Cure with Team AARP Utah is an outstanding way to show our support for a very worthy cause. We hope you decide to join Team AARP Utah and make a difference in the fight against breast cancer.