The city of Burlington has sent all registered voters an absentee ballot so that they can safely vote from home in the municipal March election amid the coronavirus pandemic:

Mail in your absentee ballot or place it in an outdoor drop box, which is available 24/7 until 4:30 p.m. on March 1. Find a local drop box on the city of Burlington's website.
Those who prefer to vote in person can do so on Election Day, Tuesday, March 2.
Here's what else you need to know: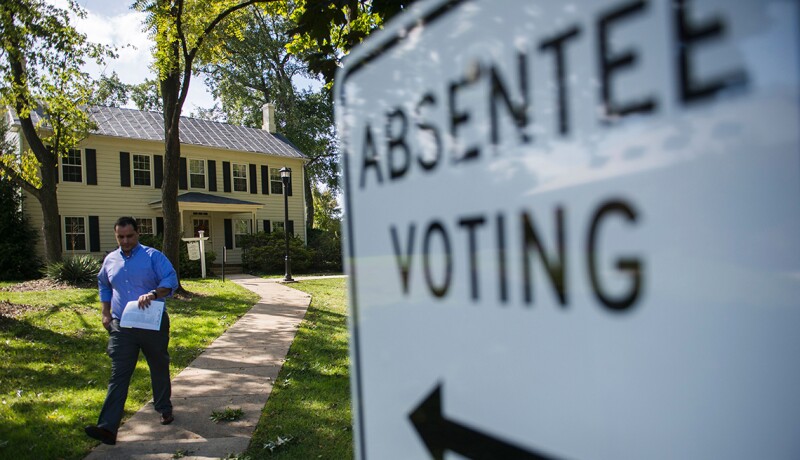 How do I register to vote?
Register via the state's online voter registration system or print and fill out the form and mail it to the City Clerk's Office. If you want to receive an absentee ballot in the mail but are not registered to vote, your registration form must be received by Feb. 24 or you must be registered online by that date. You cannot pick up or drop off a registration form in person this year.

You can also register at your polling place on Election Day.


How can I get an absentee ballot? Are there important deadlines?
Absentee ballots have been mailed to all registered voters. If you don't receive a ballot by Feb. 19 or if you're not home to receive it, contact the clerk's office at burlingtontownclerk@burlingtonvt.gov or (802) 865-7000. Mail your ballot by Feb. 22. If you're concerned that your ballot will not arrive on time, drop off your sealed ballot envelope in an official drop box by 4:30 p.m. on March 1 or at a polling place on Election Day.


When is Election Day? When are the polls open?
Tuesday, March 2. Polling places are open from 7 a.m. to 7 p.m. Find your location on the city of Burlington's website.


Can I vote in person before Election Day?
No, but you can submit an absentee ballot before Election Day.


Do I need identification to vote?
No. If you would like to vote in person instead of using your absentee ballot, bring that ballot to the polls if you received one.


What is being done to make polling places safe from the coronavirus?
Social distancing will be enforced, and masks are required at polling centers. Hand sanitizer will be available at entrances and exits, according to the Burlington clerk's office. By mailing all registered Burlington voters an absentee ballot, Vermont seeks to limit the number of people at the polls.


What races are on the ballot?
You can view a sample ballot on the city of Burlington's website. The races are:

Burlington mayor: Haik Bedrosian (I), Ali Dieng(I), Will Emmons(I), Kevin McGrath(I), Max Tracy (P), Miro Weinberger (D), Patrick White (I)
District city councilor in all city districts
District school commissioner in all city districts
Ward clerk in all city districts
Inspector of election

Also of Interest: