The numbers are in, and they're headed in the wrong direction. According to new statistics from the Federal Trade Commission, Washington consumers lost nearly $69-million to fraud in 2020, more than double the amount lost in 2019. It seems the scammers are gaining the upper hand in the fight for our hard-earned dollars. Con-artists are becoming ever more sophisticated in their tactics, and new scams are emerging at an increasing pace. Even the most informed consumer can find themselves struggling to keep up.

To help consumers fight back, AARP has joined forces with local partners, the State Attorney General's Office, BECU, and the call blocking service Nomorobo to launch "Tip-offs to Rip-offs," an effort aimed at helping Washington consumers stay a step ahead of the scammers.

As part of our effort, we're providing special SCAM ALERTS on new and emerging scams. Check out our latest alert below about a "PSE Utility Disconnect Scam" that's burning up phone lines across the state. Through a unique new partnership with the call-blocking service Nomorobo, we're also providing real-time access to the specific TOP-5 ROBOCALL SCAMS flooding cities across the state. With these and other early warning tools, consumers will gain the inside track on recognizing the newest scams before the cons have a chance to make their pitch.


---

Utility Scam Alert from Puget Sound Energy (PSE)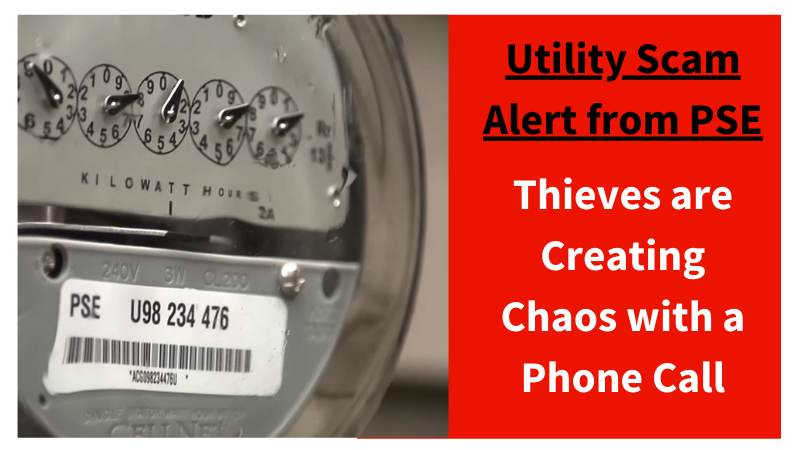 Be aware of scams targeting utility consumers

PSE wants you to be aware of scammers and con artists who are targeting utility consumers across the state by posing as utility representatives and demanding immediate payment of an "overdue" bill to avoid disconnection of your energy service.

Listen to the call that's burning up Washington state phone lines below, and visit AARP's Fraud Watch Network for tips on avoiding utility scams. Also take a moment to visit PSE's website and and watch their short video for more.






---
The barrage of automated telephone solicitations or "robocalls" we get on our home and mobile phones seems to be never-ending. In fact, robocalls coming into the U.S. have more than doubled in recent years to nearly 50 billion calls a year. To make matters worse, experts estimate that up to half of these calls may be attempts to defraud consumers - and Washington state has been hit hard by this massive increase in unwanted scam calls.

To help Washington consumers better spot and stop emerging robocall scams, we're providing real-time access to a the types of robocall scams flooding specific areas of the state. Click on your city below to reveal the Top-5 Robocall Scams in your area*. And be sure to visit this site often as we'll be regularly updating the list!


*Information provided by Nomorobo

---

Additional consumer protection resources

- AARP Speakers Bureau: Trained volunteer speakers are available to give free presentations on a wide range of topics. Visit us online for more information and to schedule a speaker.

- AARP Fraud Watch Network: A free resource for people of all ages. Consumers can sign up for "Watchdog Alert" emails, or call 877-908-3360 to report scams or get help from trained volunteers in the event someone falls victim to scammers' tactics.

- Washington State Attorney General's Office: The State Attorney General's Office safeguards consumers from fraud and unfair business practices. Consumers may report any unfair or deceptive business practices by filing a complaint online or by calling 800-551-4636.

- Nomorobo: A cloud-based service created by Telephone Science Corp that blocks robocalls, telemarketers, spam texts, and phone scammers from calling your phone.


---

"Tip-Offs to Rip-Offs" is presented by: