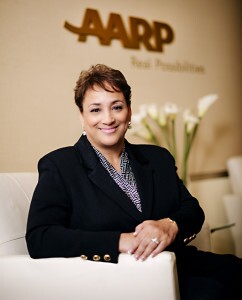 Act your age.

Has anyone ever told you that and how do you answer if you're 50 or older?

AARP CEO Jo Ann Jenkins believes you shouldn't fall for stereotypes about how people 50+ should act.

That's why she wrote her best-selling book "Disrupt Aging."

The book is about changing the way we think about getting older.

We all age every day and that's way better than the alternative.

We're living longer, healthier and more productive lives so growing older is really about growth, not decline. It's about taking advantage of opportunity, not limits on what we can do because of our age.

Jo Ann Jenkins is coming to Honolulu on Saturday, May 6 to speak about her book and the Disrupt Aging movement it sparked at the Hawaii Book and Music Festival at 11:30 a.m. at the Mission Memorial Auditorium on the Honolulu Civic Center grounds. AARP Hawaii has also planned a full day of panels at the AARP Hawaii Disrupt Aging Pavilion on Sunday, May 7 with local speakers who are defying stereotypes about what it means to get older.

Call 1-877-926-8300 to reserve your seat or go to https://aarp.cvent.com/books5-6-7. We're giving away 12 prizes at the festival, including iPad minis, Kindle Fires and autographed books. People who pre-register will get an extra chance at a prize.

The first 50 people at the Mission Memorial Auditorium will also get a free copy of Jo Ann's "Disrupt Aging' book.

Don't miss this chance to meet Jo Ann Jenkins and hear her speak. Embrace your age, don't deny it and don't let anyone tell you you're too old to go to festivals.