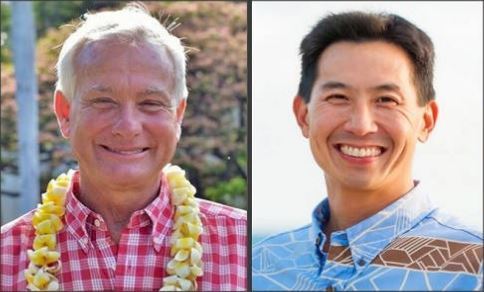 Updated 10/10: Listen to the entire recording here! Press release from the event is below.
Honolulu— This Saturday, October 1, Honolulu mayoral candidates will participate in a live tele-town hall forum from 9-10 a.m. and take phone questions from Oahu residents on issues concerning them.
"AARP is pleased to provide the opportunity for Oahu residents to listen and ask questions about the issues they are most concerned with," said Barbara Kim Stanton, AARP Hawaii's State Director who will serve as moderator of the discussion. "Given the magnitude of the issues kupuna and their families are facing, it is vital to hear how Mr. Caldwell and Mr. Djou plan to address our community concerns."
Participants on the phone line will have the opportunity to ask questions throughout the call by dialing *3 on their phone key pad.
Media will be permitted to ask the candidates questions before and after the forum. A recording of the discussion will be available online after the event's conclusion on the AARP Hawaii Vekeo homepage. Please tune in and ask your question!
About AARP
AARP is a nonprofit, nonpartisan membership organization that helps people 50+ have independence, choice and control in ways that are beneficial and affordable to them and society as a whole. AARP does not endorse candidates for public office or make contributions to either political campaigns or candidates. We produce AARP The Magazine, published bimonthly; the AARP Bulletin, our monthly newspaper; NRTA Live & Learn, our quarterly newsletter for 50 + educators; and our website, www.aarp.org. AARP Foundation is an affiliated charity that provides security, protection, and empowerment to older persons in need with support from thousands of volunteers, donors, and sponsors. We have staffed offices in all 50 states, the District of Columbia, Puerto Rico, and the U.S. Virgin Islands.
###