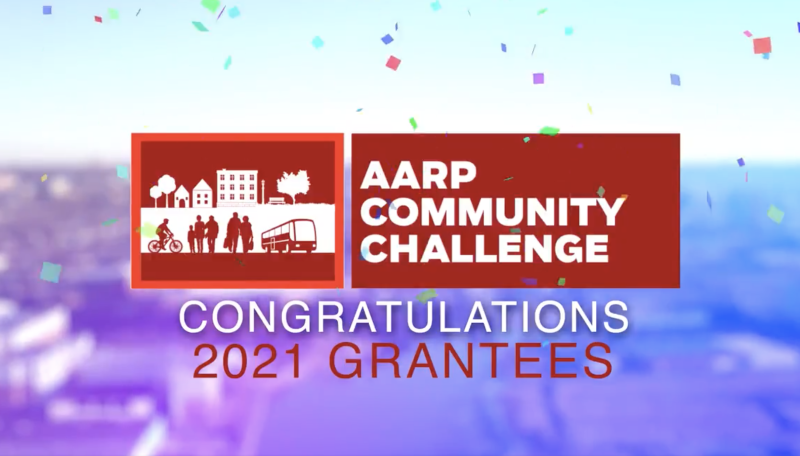 Communities across Indiana are all working to become more livable for residents of all ages.

And, AARP is working across Indiana in partnership with local leaders, organization and dedicated residents to help make that vision a reality. As part of that effort, AARP is excited to announce the largest number of projects to-date through the Community Challenge program. These quick-action grants are being distributed to 244 organizations across all 50 states, Washington D.C, Puerto Rico and the U.S. Virgin Islands.

The Community Challenge funds innovative projects that inspire change in areas such as transportation, public spaces, housing, diversity and inclusion, civic engagement, coronavirus response and more.

The state affiliate office, AARP Indiana, is incredibly proud to have five grantees right here in the Hoosier state. The state office's goal is to support their efforts to create great places for people of all backgrounds, ages and abilities and as local leaders seek to better their communities for the future, this is even more critical.

This Is IN: 2021 Community Challenge grantees
Here in Indiana, these exciting and diverse projects were funded:


South Bend Heritage: An alley connecting senior apartments to the rest of the community will be transformed into a vibrant and comfortable area for senior residents to enjoy with benches, picnic tables, games, gardens, and artistic touches.
Martin Luther King Multi-Service Center Indianapolis, Inc.: Neighborhood teenagers will create highly-visible crosswalks to provide safe passage for pedestrians in an area suffering from traffic violence.
Loogootee Beautification Committee: A large mural will be installed by a local artist on the side of an abandoned building currently being renovated to create a new multi-use community space.
Keep Indianapolis Beautiful, Inc.: Transforming a vacant lot beside a neighborhood center will create a GreenSpace featuring a community orchard, native shade trees, benches, and accessible pathways for people of all ages.
City of Kendallville: This project will transform an abandoned lot into a usable park space with a stage area, benches, tables and chairs, and a designated area for food trucks or local vendors.
The Community Challenge is part of AARP's nationwide work on livable communities, which supports the efforts of neighborhoods, towns, cities and counties across the country to become great places for all residents. AARP believes that communities should provide safe, walkable streets; affordable and accessible housing and transportation options; access to needed services; and opportunities for residents to participate in community life.

To learn more about the work being funded by the AARP Community Challenge both here in Indiana as well as across the nation, visit aarp.org/CommunityChallenge. You can also view an interactive map of all of the Community Challenge projects and AARP Indiana's livable communities work at aarp.org/livable.