AARP Indiana has announced two winners for the AARP Community Challenge, aiming to create change and improve quality of life at the community-level. The winning organizations include the Kokomo YMCA and the Fort Wayne Active Living Coalition. Each project was fully funded through the AARP Community Challenge grant and is set to be completed by November 1, 2017.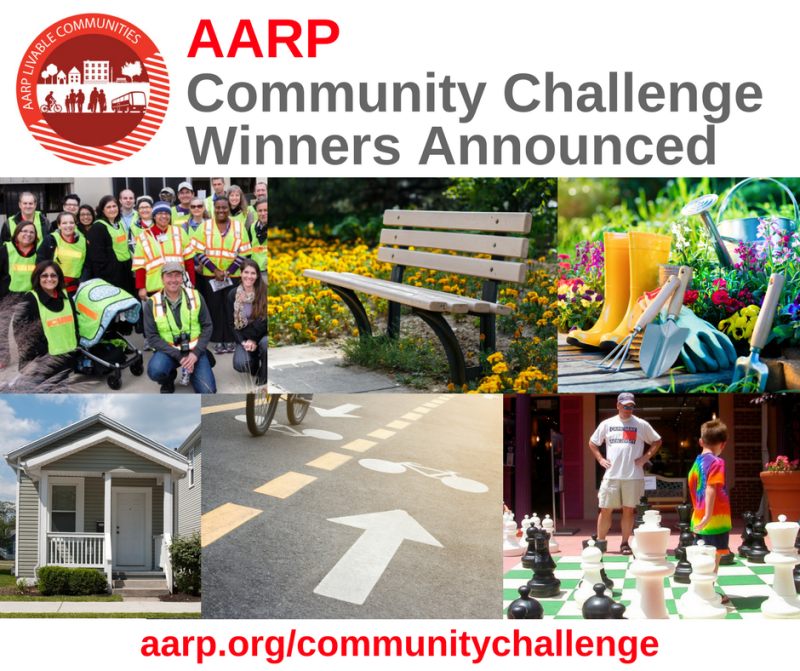 "The great communities we have across Indiana weren't created overnight," said Sarah Waddle, state director for AARP Indiana. "It took time to build and sustain them, but sometimes 'quick actions' can have a lasting impact as well. That's why we believe that these projects will motivate local leaders and become the critical push for longer-term progress."

All of the winning projects in this challenge will deliver on one or all of the following:

Improve social connections through the built environment benefiting people of all ages and abilities in the community.
Expand opportunities for all residents, such as job, volunteer, and educational/training opportunities.
Drive inclusive community engagement and interaction across a diverse population.
Kokomo YMCA's Wayfinding Initiative

With the goal of raising awareness of Howard County's trails, parks and other recreational sites that can increase physical activity within their community, the Kokomo YMCA will create signage for the city's trolley stops and its Walk of Excellence Trail that will indicate ADA accessibility, distance, direction, and walking time to local attractions including parks, Kokomo Beach Family Aquatic Center, and Kokomo Municipal Stadium. The Kokomo YMCA will also conduct regular programming at the signs along the Walk of Excellence Trail to provide an educational factor to the new signage and continue healthy initiatives for the community.

Fort Wayne Active Living Coalition

This project will have two components with the first being the creation of a traffic calming parklet in a high profile, highly traveled area that connects downtown Fort Wayne with the adjacent neighborhoods. This parklet is intended to be an interim, pilot installation aimed at being a catalyst for permanent infrastructure improvements in the intersection. The project will be led by an Active Living Project Facilitator to ensure that the project is designed, installed, maintained and tracked in a manner that will ensure long term impacts and lead to further success in the mission to create an active, livable community.

The Fort Wayne project will receive support through the AARP and Team Better Block collaboration including support with project design, city department negotiations, and organizing the community around project objectives.

For a complete list of the winners and projects, visit aarp.org/CommunityChallenge.