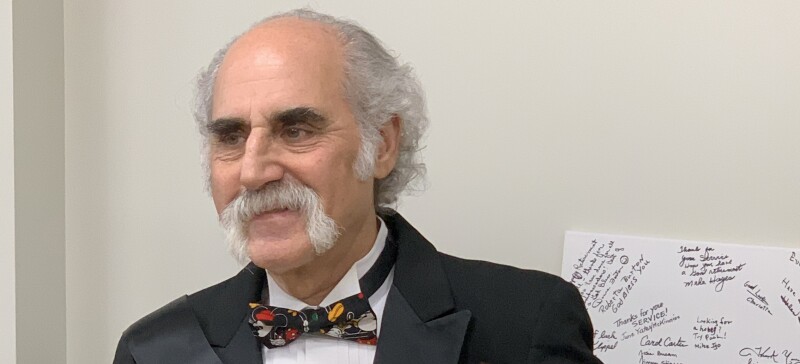 Lafayette, Ind. – William N. "Bill" Glick was selected by AARP, the nonprofit organization for people 50 and older, to receive the 2020 AARP Indiana Andrus Award for Community Service -- the Association's most prestigious and visible state volunteer award for community service.

AARP Indiana selected Glick for his remarkable service, which has greatly benefited the community, supported AARP's vision and mission, and inspired other volunteers.

"I was taken aback, absolutely thrilled, and humbled by being this years' recipient," Glick said. "I really owe the honor to all my colleagues at the Indiana AARP State Office, all the other AARP volunteers and chapter members that have been my privilege to work with, and of course, all the staff and Tippecanoe County Council board members, and my family, who allowed me the support to participate in the efforts to advocate for seniors these past several years."

As an AARP Indiana volunteer, Glick serves as a member of the group's Legislative Team, which advocates on the behalf of older Hoosiers during the Indiana General Assembly. He is a staunch champion for older adults in need. He has volunteered with AARP Indiana for more than five years.

Outside of his volunteerism, Glick is the former executive director of the Tippecanoe County Council on Aging. During his tenure as executive director, he helped keep a local Meals on Wheels program on the road, started a new home repair program, and led the council through the construction of Lafayette's Northend Community Center.

The award was formally presented to Glick at a ceremony during AARP Indiana's Virtual Volunteer Gathering & Awards on October 28.

"This award acts as a symbol to the public that we can all work together for positive social change," AARP Indiana State Director Sarah Waddle said. "AARP has long valued the spirit of volunteerism and the important contributions volunteers make to their communities, neighbors, and the programs they serve.

"Bill has a servants' heart, and you can see his joy, enthusiasm, and conscientiousness in everything he has done in the Lafayette community, as well as in his advocacy with our team at the Indiana Statehouse."

Recipients across the nation were chosen for their ability to enhance the lives of AARP members and prospective members, improve the community in or for which the work was performed, and inspire others to volunteer.