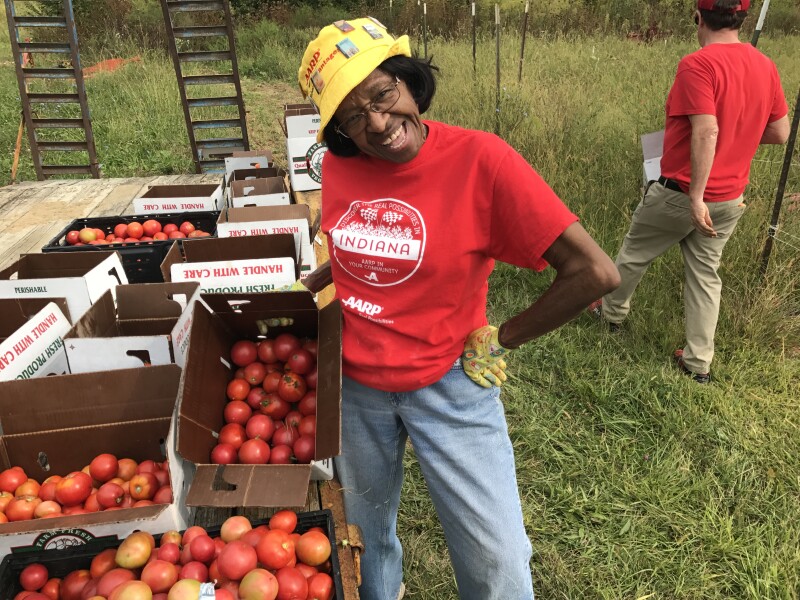 Here at AARP, we know that you have a lifetime of experience to offer. If you are looking for a way to share it, we can help. As an AARP volunteer within the Hoosier State you will be front and center in helping to achieve meaningful and impactful change at a local, state, and federal level while having fun along the way! Whether your interests lie in fighting fraud and scams, supporting family caregivers, making your community more safe and secure for people of all ages, or ensuring you and your loved ones financial security is sturdy for years to come, volunteering for AARP may be right for you.

Interested in joining our team or simply looking for more information about ways that you can get involved? Contact us by emailing Senior Program Specialist Vincent Jacobbi at vjacobbi@aarp.org.

We are excited to know that as a valued member of your community you are ready to take the next step to improve it by volunteering with AARP Indiana. Included below are a few ways in which our volunteers are making every day positive changes.

You can too through:

Community Events- A livable community is safe and secure for people of all ages, and has affordable housing, transportation, and community services. AARP Indiana works with nonprofit groups, government agencies, policy makers, citizen activists, business leaders and people age 50-plus to raise awareness about the need for age-friendly housing and transportation option; safe, walkable streets; access to needed services; and opportunities for residents of all ages to participate in community activities.

Find out more at aarp.org/livable

Advocacy- AARP Advocates for the things that matter to you and your family and help you stay informed, be heard and take action. AARP Indiana undertakes extensive advocacy efforts at the state and federal level. We are active within the Indiana General Assembly on the legislative matters that impact the 50-Plus population within the state and rely on volunteers like you to assist in these endeavors.

Find out more at aarp.org/advocacy 

Volunteer Recruitment - Help achieve the goals of AARP Indiana by collaborating with staff to recruit, retain and recognize volunteers wishing to make an impact through AARP's volunteer positions.

Find out more at aarp.org/volunteer

Fraud Fighting - AARP arms you with the tools you need to spot and avoid scams so you can protect yourself and your family. The AARP Fraud Watch Network is a free resource to help you protect yourself and your family from identity theft and scams. Receive watch dog alerts, active scams information, and resources about next steps. AARP Indiana hosts several shred events in communities across the state where individuals can protect their identity by getting rid of sensitive documents in a safe manner.

Find out more at aarp.org/fraudwatchnetwork

Sharing Your Story - Looking to have you voice heard and your story told when it comes to being a caregiver or protecting Social Security for current and future generations? These are just a few of the stories you can share through a respected and trusted platform that will help others along the way.

AARP Driver Safety Program - AARP Driver Safety offers educational programs designed especially for drivers age 50 and older. The AARP Smart Driver course, offered by the AARP Driver Safety program, is the nation's largest classroom and online driver safety course and is designed especially for drivers age 50 and older. Over 15 million participants have gone through AARP driver Safety classroom and online courses, taught by more than 4,000 AARP Driver Safety volunteers.

Find out more at aarp.org/drive

AARP Foundation Tax- Aide Program -AARP Foundation Tax-Aide is the nation's largest free, volunteer run tax assistance and preparation program. Tax-Aide sites are available from February 1 to April 15. AARP Foundation Tax-Aide volunteers are trained and IRSA-certified each year to ensure they hear about and understand the latest changes and additions to the U.S. Tax Code.

Find out more at aarp.org/tax-aide  

If you don't see something here listed, tell us how you would like to make your volunteering experience most meaningful!