Annual Award Recognizes Those Who Make a Powerful Difference in their Community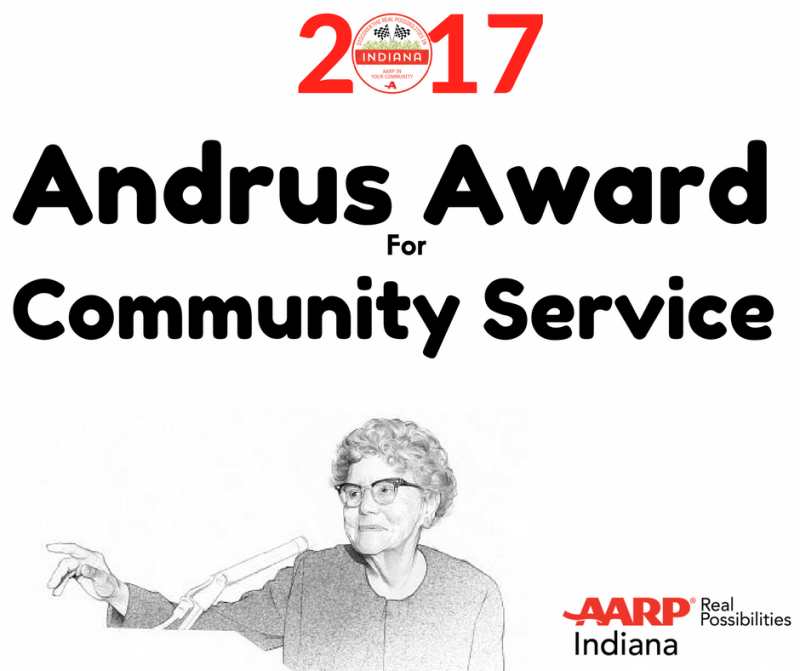 AARP Indiana is now accepting nominations for its 2017 Andrus Award for Community Service, which honors older Hoosiers who are sharing their experience, talent, and skills to enrich the lives of their community members.

Do you know a volunteer age 50+ that is using his or her skills and experience to make a significant difference in your community? Honor his or her dedication, commitment, and creativity with AARP's most prestigious and visible state volunteer award for community service.

The purpose of the award is to recognize outstanding individuals who are making a powerful difference in their communities in ways that advance AARP's mission, vision, and commitment to volunteer service and that inspire others to volunteer.

Nominations for this year's award will be accepted through June 2, 2017 at the AARP Indiana office. Nomination forms are available on the web at www.aarp.org/AndrusAward or by calling 1-888-OUR-AARP (1-888-687-2277).

Nominations will be evaluated based on how the volunteer's work has improved the community, supported AARP's vision and mission, and inspired other volunteers. The award recipient will be announced in early fall.

AARP Indiana Andrus Award for Community Service nominees must meet the following eligibility requirements:

Nominee must be 50 years or older.
The achievements, accomplishments, or service on which the nomination is based must have been performed on a volunteer basis, without pay.
The achievements, accomplishments, or service on which the nomination is based must reflect AARP's vision and mission.
Couples or partners who perform service together are also eligible; however, teams are not eligible.
This is not a posthumous award.
Please contact Vincent Jacobbi vjacobbi@aarp.org for further information. The application deadline is June 2, 2017.

The AARP Andrus Award for Community Service is an annual awards program developed to honor individuals whose service is a unique and valuable contribution to society. Last year, AARP recognized 51 outstanding individuals from around the country. In 2016 AARP Indiana was proud to honor Volunteer Executive Council and Legislative Team member Linda Dunno from Fort Wayne.