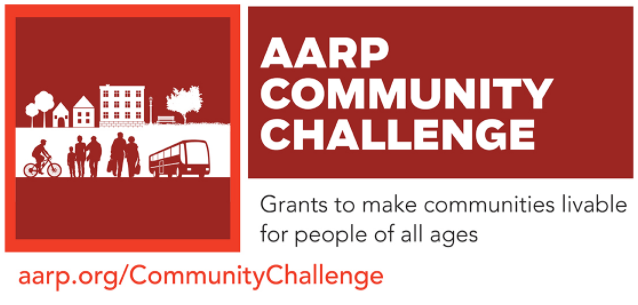 Communities across Indiana are working to become more livable for residents of all ages.

AARP is working in partnership with local leaders, organizations and dedicated residents to help make that vision a reality. As part of that effort, AARP is excited to announce the largest investment of grant dollars to date through the Community Challenge grant program. More than $3.6 million in quick-action grants are being distributed to 310 organizations across all 50 states, Washington D.C, Puerto Rico and the U.S. Virgin Islands.

The AARP Community Challenge funds innovative projects that inspire change in areas such as public places; housing; transportation; diversity, equity, and inclusion; digital connections; community resilience; and more.

This year, AARP is also bolstering its investment in rural communities, mobility innovation, transportation options, and health and food access. The program accepted applications across three different grant opportunities, including existing flagship grants in addition to new capacity-building microgrants for improving walkability and community gardens. New demonstration grants will focus on improving transportation systems, with funding support provided by Toyota Motor North America, and housing choice design competitions.

AARP Indiana is incredibly proud to have seven grantees right here in the Hoosier State. Our goal is to support their efforts to create great places for people of all backgrounds, ages and abilities. As local leaders seek to better their communities for the future, this becomes even more critical.

Here in Indiana, these exciting and diverse projects were funded:


Mongo Community Development Association (Mongo)– The project includes conducting walk audits, identifying areas with the greatest need for new sidewalks and working with a contractor to build them.
Still Waters Adult Day Center (Indianapolis) – This project will revitalize a languishing garden and make it inviting and accessible for people of all ages to plant and enjoy flowers, herbs and vegetables. Community members will be able to reserve plots and raised beds, ensuring the garden's accessibility for older people and their caregivers.
Fort Wayne Trails (Fort Wayne) – This project will install curb cuts and signage to improve the community's access to a prairie, a pond and paths on the campus of Stillwater Hospice, a place of comfort and healing.
GROW Jasonville, Inc. (Jasonville) – This project will create a walkway equipped with ADA-compliant benches, directional signage, lights and a painted crosswalk to encourage residents 50-plus to use the nearby community garden and connect with Jasonville's history.
Retired Senior Volunteer Program of Daviess County (Washington) – This project will provide trikes for older adults, enabling them to access recreation, exercise, shopping and medical providers in their community.
South Madison Community Foundation (Pendleton) – This project will develop a pocket park that will bring local school students and older adults together for storytelling and experience-sharing events.
Wesselman Woods Nature Preserve (Evansville) – This ADA-accessible trail project aims to make the country's largest urban old-growth forest fully accessible for people with limited mobility.

The Community Challenge is part of AARP's nationwide work on livable communities, which supports the efforts of neighborhoods, towns, cities and counties across the country to become great places for all residents. We believe that communities should provide safe, walkable streets; affordable and accessible housing and transportation options; access to needed services; and opportunities for residents to participate in community life.

To learn more about the work being funded by the AARP Community Challenge both here in Indiana as well as across the nation, visit aarp.org/CommunityChallenge. You can also view an interactive map of all of the Community Challenge projects and AARP Indiana's livable communities work at aarp.org/livable.