Results of Senate Matchup to be Released on Sept. 19
INDIANAPOLIS – With 50 days to go before the midterm elections, the vast majority of Hoosier voters age 50 and over are concerned about Social Security and health care according to a newly released AARP poll.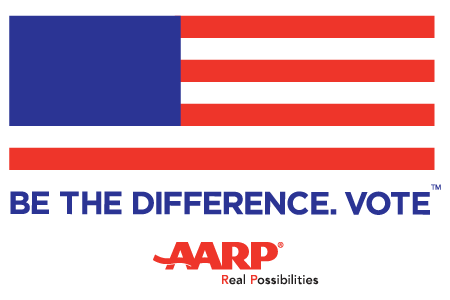 The survey is part of AARP's "Be the Difference. Vote" campaign and continues AARP's long tradition of nonpartisan voter engagement.

A strong majority of Indiana's 50-plus voters indicated candidates' positions on strengthening and reforming Social Security (81 percent), lowering health care costs (80 percent), protecting and strengthening Medicare (77 percent), addressing rising prescription drug costs (76 percent), and the economy (61 percent) are among the issues very important when casting their votes this fall.

"Hoosiers 50 and older are the most reliable group of voters across the board," said AARP Indiana State Director Sarah Waddle. "We've been working hard to provide this powerful voting bloc with information on where the candidates stand on the issues that matter most to them and their families, so they can make their own decisions on Election Day."

AARP Indiana recently conducted two separate tele-town halls with both major party candidates for U.S. Senate. Senator Joe Donnelly participated on September 10, and Mike Braun participated on September 12. Both candidates heard directly from voters during the one-hour calls, with many asking about the same issues highlighted in the poll.

The Indiana poll found:

93 percent of voters age 50-plus in Indiana think Medicare is very important for people's health in retirement.
92 percent agree that Congress should make changes to ensure the program can continue to cover hospital benefits beyond 2029.
82 percent think it is unfair to deny coverage or make those with pre-existing conditions pay more for their health care.
83 percent do not agree with allowing insurance companies to charge older people up to five times more for health insurance.
87 percent think that Social Security is very important for financial security in retirement,
69 percent believe the government should do something to strengthen Social Security immediately.
57 percent of working voters age 50-plus are not confident they are saving enough for retirement.
76 percent feel that candidates' positions to address rising prescription drug costs are very important.
64 percent think drug companies have a lot of influence over Members of Congress.
83 percent support importation of prescription drugs.
54 percent currently or have previously provided unpaid care for an adult loved one.
86 percent support providing an income tax credit to family caregivers, regardless of whether they are or have been caregivers.
80 percent support requiring employers to provide some paid leave to all employees that can be used for family caregiving purposes.
When asked to rate the performance of elected officials in Washington, D.C., 50 percent of respondents said they approve of the job President Trump is doing while 38 percent disapprove. Congress gets lower marks among members of both parties. Sixty-five percent of those polled disapprove of congressional Democrats, and 53 percent don't like the job Republicans in Congress are doing.

AARP's "Be the Difference. Vote" campaign is designed to maximize the influence of America's 50-plus voters and continues AARP's long tradition of nonpartisan voter engagement. The campaign seeks to get the largest possible turnout of voters, age 50-plus to the polls in the November general election and put front and center issues like Medicare security and family caregiving, along with other topics of particular interest to older voters. For more information on the campaign and to pledge to vote in this year's elections, go to www.aarp.org/vote.

AARP does not endorse candidates, have a political action committee (PAC), or make contributions to political parties, political campaigns or candidates.

The poll, conducted by Alan Newman Research, surveyed 807 voters in Indiana age 50 and older between August 17 and 28 and has a margin of error of +/- 3.5 percentage points.

The full survey results will be made available on 9/19 and can be found here: www.aarp.org/2018StateVoterSurveys