Carver Community Organization will receive Toyota vehicles to help with COVID vaccine outreach efforts
EVANSVILLE, IND. — AARP and Toyota are teaming up to serve the Evansville community with a new initiative aimed at improving education, outreach and access to COVID-19 vaccines. The two organizations collaborated to provide two Toyota Sienna minivans to the Carver Community Organization to amplify its current vaccine efforts and offer more essential rides. Each vehicle will feature eye-catching graphic wrap so they stand-out on area roadways.
"AARP has helped older Americans navigate the health and economic challenges of the pandemic, and through this collaboration, we're better able to help people in communities get to and from vaccination appointments or other essential errands," said Sarah Waddle, AARP Indiana State Director.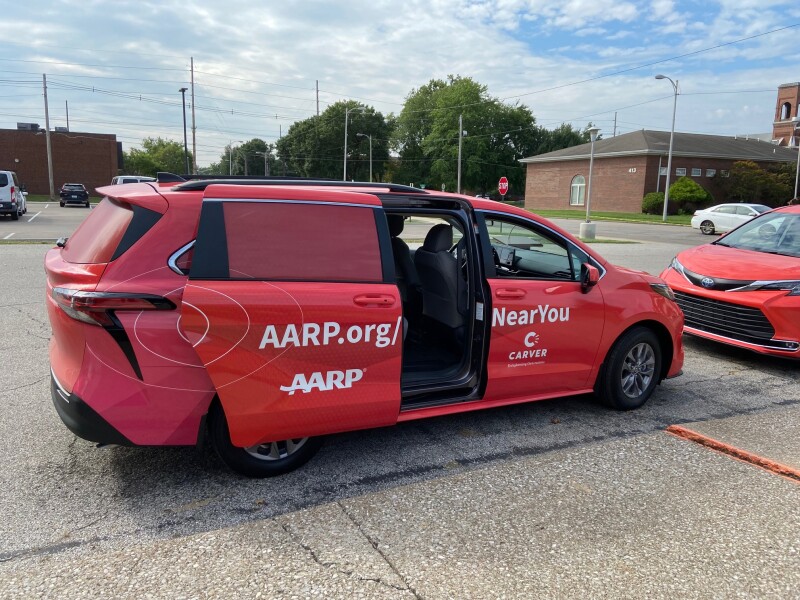 Building on a 10-year collaboration, Toyota worked with AARP to identify local organizations like Carver Community Organization focused on providing essential services in communities around the country. Carver Community Organization provides childcare, both youth and senior programs, and more to Evansville-area families.

"The collaboration with Toyota and AARP empowers Carver Community Organization to use our trusted voice to assist in meeting critical community needs," said David Wagner, Carver Community Organization executive director. "The Toyota vehicles will help to eliminate transportation barriers and will further assist our efforts in helping our community access COVID-19 vaccines and other essentials. The vaccine outreach program made possible with AARP and Toyota, helps further the example of Carver Community Organization's efforts through its 77-year history to make our community a better place to live."

Given the devastating impacts of the COVID-19 pandemic, Toyota and AARP are both committed to driving awareness, education, and access to COVID-19 vaccinations for vulnerable individuals. The work with the Carver Community Organization is an important part of that initiative, which includes 16 cars delivered to nine community organizations around the country, so they deliver even more rides for their constituents. Overall, Toyota is providing more than 50 vehicles to a variety of organizations in 13 states.

"Mobility is more than taking people from A to B. It's also about bringing critical goods and services to them. Together with AARP and Carver Community Organization we are working to bring critical vaccine information and rides to vaccine appointments to communities that need it most," said Leah Curry, Toyota Motor Manufacturing, Indiana plant president. "Through this initiative, we hope to make a big impact right here in Evansville and the surrounding area."

To learn more of what AARP is doing in your community, visit www.aarp.org/NearYou.