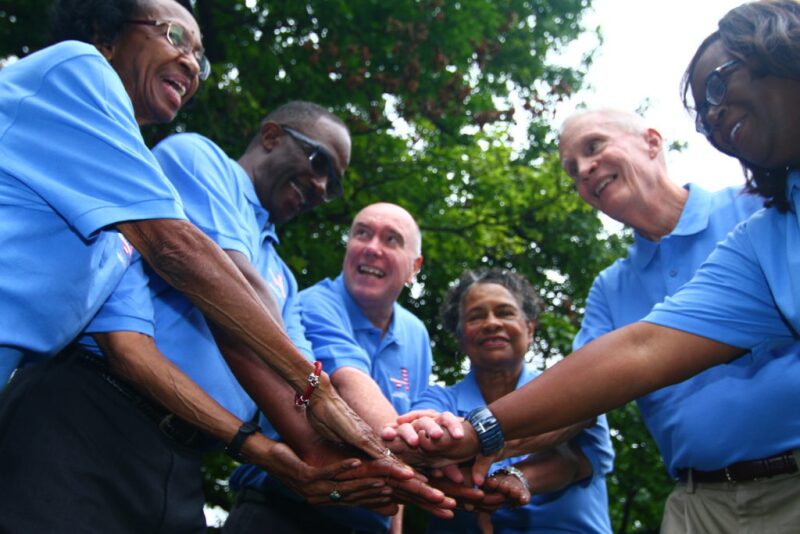 Helping those in need, raising their voices, and being part of their communities is all in a day's work for AARP Indiana volunteers.

"Volunteers across this state empower us to make a difference for people 50 and older and their communities," AARP Indiana State Director Sarah Waddle said. "They do it all for their neighbors and their friends."

From as far north as Gary and from as far south as Evansville, AARP Indiana volunteers comprise a half dozen teams that get their hands dirty, whether that's working in a local community garden or suiting up for a busy day at the Indiana Statehouse.

"Because of dedicated AARP volunteers, we're able to put a human face to both abstract policy and fact-driven community work," Waddle said.

AARP Indiana's six teams that get community service done and enact an agenda of positive social change are: Team Gary, Team Fort Wayne, Team Indy, Team Evansville, Legislative Team, and the Hoosier State Action Team (a collective of volunteers representing all points in between.

These teams volunteer throughout the year, communicate with AARP Indiana staff, befriend each other, and celebrate.

Volunteer Priorities

The priorities of each team are set every calendar year and vary depending on the goings-on in each community.

In the past, Legislative Team volunteers rapidly responded to fight a bad payday lending bill at the Statehouse.

Meanwhile, Team Fort Wayne vigorously toiled to do the background work-needed to make Indiana's second largest city a member of the AARP Network of Age-Friendly States and Communities. The Age-Friendly Network endeavors to make the places we live friendly to people of all ages.

Other priorities championed by AARP Indiana include the implementing of a bus rapid transit line in Indianapolis, combatting food insecurity, lowering the cost of life-changing prescription drugs, and much more.

These priorities translate to volunteerism that looks like interacting with the public at local events, talking with elected officials, and serving on boards and commissions.

Volunteer Wins

"Volunteers make contact with key elected officials," Mandla Moyo, AARP Indiana Director of Community Engagement, said. "By doing so, we're able to advocate on behalf of people 50 or older.

"That means we're able to communicate on what bills need to get passed on the federal level and positively impact social change."

One such positive impact and win was the passing of HR 3, a bill that would save American consumers nearly $500 billion on prescription drug costs if passed into law. During the summer and early fall of 2019, volunteers and staff visited US House Representatives across the state, delivering stacks of petitions in support of Stopping Rx Greed and lowering the costs of prescription drugs along the way.

Also in 2019, volunteers teamed up with a nonprofit in Fort Wayne, Bridge of Grace and helped build pocket parks in one neighborhood – making a visible change in the built environment.

"I've been volunteering for AARP Indiana for years," Team Fort Wayne leader Linda Dunno said. "I believe our team has made a difference in our community's physical environment and how it develops, especially after Fort Wayne joined the AARP Network of Age-Friendly Communities and States."

Get Involved

To learn more about volunteering with AARP Indiana's team reach out to the staff's volunteer and recruitment manager, Dan Domsic, by emailing him at ddomsic@aarp.org or by calling 317-778-9108.

"Volunteers are the lifeblood of any social change organization," State Director Sarah Waddle said. "But for AARP Indiana, they're more than that.

"They're friends, family, and change-makers."