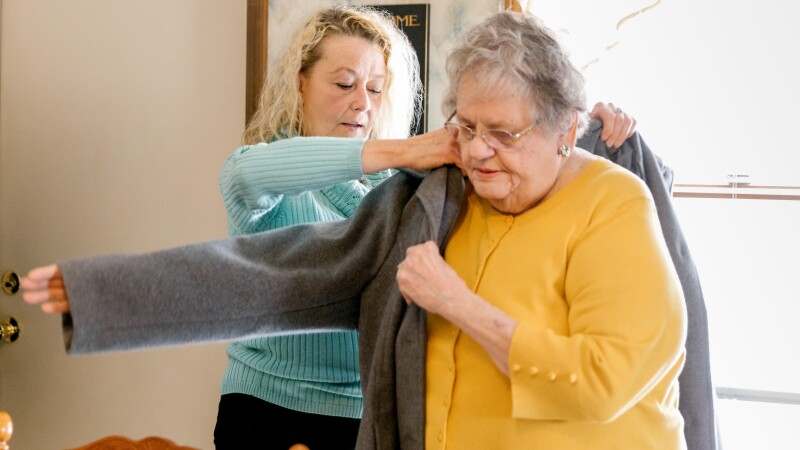 Janice Janesheski tried to take care of her 81-year-old mother, who suffers from dementia, at home but struggled to balance daily tasks with her full-time job as a cardiology technician.

So Janesheski found an assisted living facility, which her mother, Carol Grontkowski, enjoyed, until the COVID-19 crisis hit and she could no longer see family or even dine with other residents.

That's when Janesheski, 57, of Mishawaka, learned of an increasingly popular state program, known as Structured Family Caregiving (SFC), that pays live-in caregivers a daily stipend. The goal: allow people to live at home longer, instead of going to a long-term care facility. With the program's aid, Janesheski was able to quit her job to take care of her mother at home.

"I thought I was superhuman and could do everything, but I just couldn't," she said. "This program was really a godsend."

COVID-19's fatal spread through nursing homes last year spurred more families to look for home- and community-based alternatives for long-term care, said Ambre Marr, legislative director of AARP Indiana.

"We really need to rebalance our heavy reliance on institutional care," Marr said. "While there's a need for nursing homes and they play a vital role, some people can get what they need and stay at home."

AARP Indiana supports a long-overdue increase in funding for home- and community-based programs, she said. Marr noted that improving the quality of services in long-term care for Hoosiers 65 and older is a key priority for Gov. Eric Holcomb (R) in 2021.

Financial help for caregivers

Structured family caregiving is one way for the state to handle the needs of an aging population that's growing rapidly and living longer, said Sarah Renner, director of Indiana's Division of Aging.

The program began as a pilot project in 2013. Now statewide, it helps more than 4,000 families and, along with similar services, saves the state roughly $2,000 per person, per month, compared with institutional care.

Caregiver Homes, the largest SFC provider in the state and the one used by Janesheski, serves more than 2,700 Hoosiers and pays its caregivers about $800 to $1,200 a month, depending on the level of care needed.

To qualify for SFC, a resident must be eligible for Indiana's Aged and Disabled Medicaid waiver and need nursing-home-level care. The caregiver must live full-time with the recipient in a private home.

Adult children are the most common caregivers, but spouses and other adults may also qualify.

A case manager and nurse develop a caregiving plan. Typical tasks include help with eating, bathing, housekeeping and other daily activities. Caregivers can hold outside jobs if they're able to fulfill the care plan.

The state regularly monitors quality of care. Caregivers provide a daily progress note and communicate with a case manager and nurse.

For Janesheski, her $40-a-day stipend, along with her mother's Social Security and small pension, allows her to pay the bills and have time to help her mom.

"She's been doing so much better," Janesheski said. "And, for me, the pressure is off."

To learn about SFC options, contact Darcy Tower at the Division of Aging at 317-234-2944 or darcy.tower@fssa.in.gov.

Sarah Hollander is a writer living in Cleveland.

More on Caregiving

What Is AARP Family Caregiving?