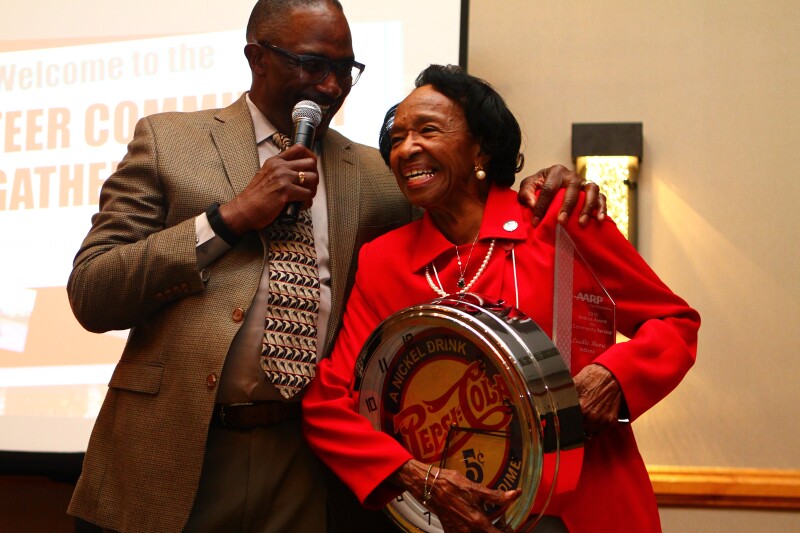 Lucille Moore of Indianapolis has been selected by AARP Indiana to receive the 2018 AARP Andrus Award for Community Service. This award, which is named after AARP's founder Dr. Ethel Percy Andrus, is AARP's most prestigious volunteer tribute that recognizes outstanding individuals who are sharing their experience, talents and skills to enrich the lives of others. Moore was presented with the award at AARP Indiana's annual volunteer celebration in Indianapolis.

"Lucille has been a presence in the Indianapolis community for many years," said AARP Indiana State Director Sarah Waddle. "She is showing all of her fellow volunteers what kind of impact you can have with consistent and inspiring work."

Moore has been an AARP Indiana volunteer for eight years and during that time has led the team of Indianapolis volunteers. In this role she trains, coordinates and leads the volunteer team members in furthering AARP's programs and initiatives to educate and improve the lives of those age 50+. She also served on the AARP Indiana Executive Council where he helps to guide the strategic director of AARP Indiana throughout the state, as well as the Legislative Team which engages lawmakers at the Statehouse on the issues that matter to the 50+ and their families.

"I want to thank AARP Indiana for the Andrus Award," said Moore. "I consider what I do for others as joy because it brings good vibes into my life. I do not have to receive an award for what I do because I really do like it."

Moore has also been a leader in her community by serving as an officer with her homeowner's and township residents' associations. She has also been active with the International Marketplace Coalition (formally The Lafayette Square Area Coalition.) The Coalition is a not-for-profit organization comprised of businesses, concerned citizens, and community leaders who encourage economic growth and development on the northwest side of Indianapolis. Her involvement has been instrumental in pushing for social and economic growth that is now seeing new residential home construction, restaurants and retail shops.