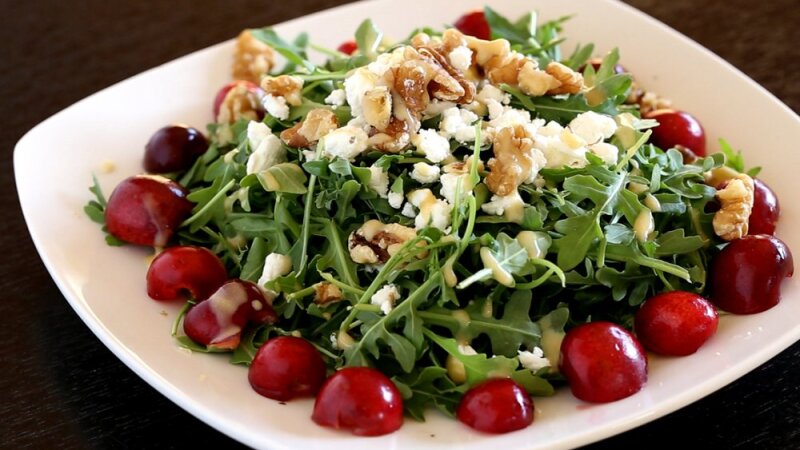 Summer has officially arrived, and with it plenty of beach days, barbeques, and picnics. Now that vaccinated individuals can gather for those classic backyard bashes, it's time to amaze friends and family alike with some delicious and healthy recipes. Over the years, AARP has teamed up with chefs all over America to share some of their summer dishes, and to celebrate, we're recapping our favorites. For more recipes, make sure to visit aarp.org/food.

Arugula Sweet Cherry Goat-Cheese California Walnut Salad
By: Devin Alexander

Serves 1

"Cherries are addicting this time of year. They are also a bit higher in sugar than some other summer fruits such as fresh strawberries and blueberries. Instead of sitting down with a bowl, I enjoy them guilt-free with this crave-worthy, fiber-filled salad. The nuts and cheese help balance sugar levels, keeping your energy high so you can enjoy summer's many outdoor activities."

Ingredients

3 cups (loosely packed) arugula leaves, coarse stems removed
8 cherries, pitted and halved
3/4 ounce (about 3 tablespoons) crumbled goat cheese
2 tablespoons chopped walnuts
1 tablespoon store-bought light champagne vinaigrette, or more to taste
Sea salt and fresh black pepper, optional
Instructions

Mound the arugula on a dinner plate or salad bowl.
Place the cherries around the outer perimeter.
Sprinkle the goat cheese and walnuts over top.
Drizzle the dressing over top.
Sprinkle with salt and pepper, if desired.
Toss, if desired. Serve immediately.
Recipe courtesy Devin Alexander; copyright 2012

Red, White, and Blue Potato Salad
By: Pam Anderson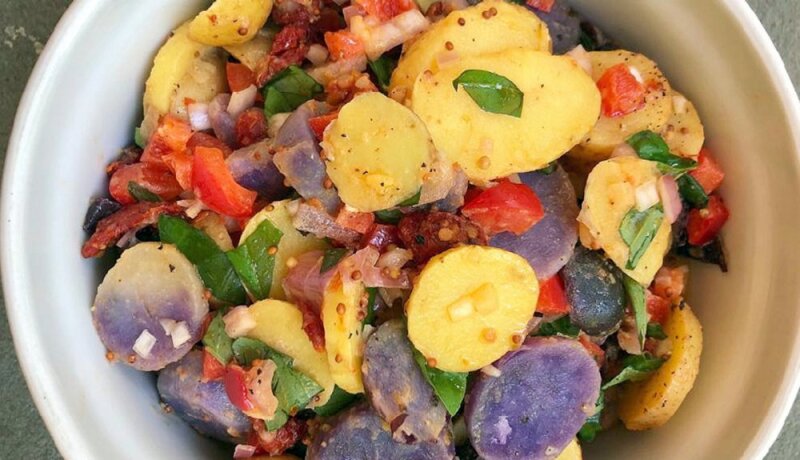 Serves 6 to 8

"Use the sun-dried-tomato oil to dress the salad. It's a good use of the oil, and it makes a flavorful topping."

Ingredients

2 pounds baby red and blue potatoes
3 tablespoons white wine vinegar, divided
Kosher salt and ground black pepper
1/2 cup small-diced shallots (2 medium or 1 large)
1/2 cup chopped sundried tomatoes packed in oil, plus 3 tablespoons sun-dried-tomato oil
1/2 cup small-diced red bell pepper (1/2 small)
1/2 cup torn basil leaves
1 tablespoon each whole-grain mustard and Dijon mustard
Instructions
1. Place potatoes, with water to cover, in a medium pot; cover pot and bring water to a boil over high heat. Reduce heat to medium-low and simmer until a thin-bladed paring knife inserted into one of the potatoes can be removed with no resistance, 15 to 20 minutes.

2. Drain and cool potatoes until warm enough to handle. Using a serrated knife, thinly slice warm potatoes and layer them in a medium bowl, drizzling with 2 tablespoons of the vinegar and lightly seasoning with salt and pepper as you go. Place shallots, tomatoes, peppers and basil over potatoes. Can be covered and set aside at room temperature for a couple of hours.

3. Mix remaining 1 tablespoon of vinegar with mustards and a pinch of salt and a few grinds of pepper. Gradually whisk in sun-dried-tomato oil to form an emulsified dressing.

4. When ready to serve, drizzle dressing over salad and toss gently to coat. Adjust seasonings and serve.

Shrimp & Guacamole Bites
By: Devon Alexander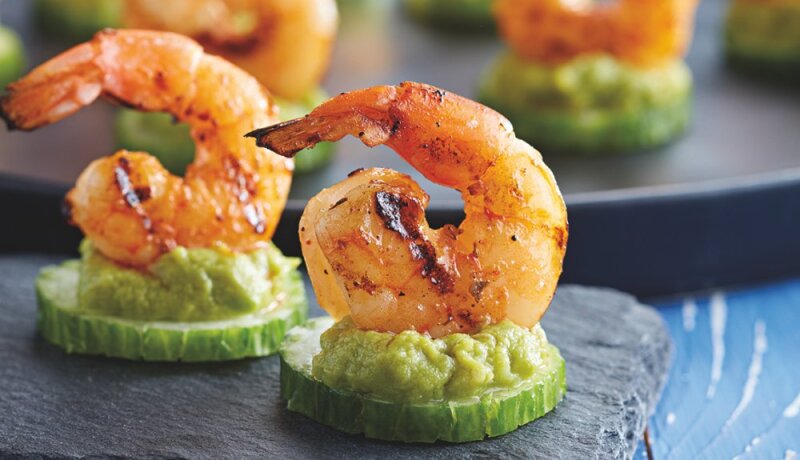 Serves 4

"I serve these crazy yummy and insanely easy morsels at parties (and to my family) all the time. They are truly one of my favorite in-a-hurry appetizers or snacks, and they're always a huge hit. They look so elegant that people often comment that I must have spent a lot of time making them. In fact, they come together in minutes."

Ingredients

12 large shrimp (preferably wild caught)
1 teaspoon olive oil
1/2 teaspoon salt-free Mexican or Southwest seasoning
1/16 teaspoon sea salt or to taste
1 medium English cucumber
6 tablespoons prepared guacamole (look for a natural one that is as light as possible and without a lot of sodium)
Instructions

1. Preheat a grill to high.

2. Peel all but the tail off the shell off the shrimp and devein by cutting a slit down the back and then running under cold water. Dry well with paper towels. Add the shrimp to a small bowl and toss them in the olive oil, seasoning and salt. Place them side by side on the grill so they do not touch. Grill until they are no longer translucent, about one minute per side.

3. Meanwhile, run the tines of a fork from one end of the cucumber to the other in a straight line, tearing into the skin slightly to score it (when it's cut you'll have a cool pattern; visit devinalexander.com/diabetes for a video demonstration). Rotate the cucumber and repeat running the fork down the length of the cucumber, keeping the score marks close together, to create a visible pattern. Repeat all the way around the cucumber. Cut the end from the cucumber on a slight diagonal and discard it. Then, cut 12 (about 1/4-inch thick, not thicker) cucumber slices on a slight diagonal (to yield about 6 ounces of cucumber slices total). Reserve any remaining cucumber for another recipe.

4. Place the cucumber slices side by side on a serving platter. Add 1/2 tablespoon of the guacamole to the center of each slice. Place one shrimp on each so that it's standing up with the tail nearly at the top. Enjoy immediately.

Recipe compliments of Devin Alexander from "You Can Have It!" copyright 2018.

Frozen Coconut Milk and Raspberry Sorbet With Blueberry Sauce
By: Pam Anderson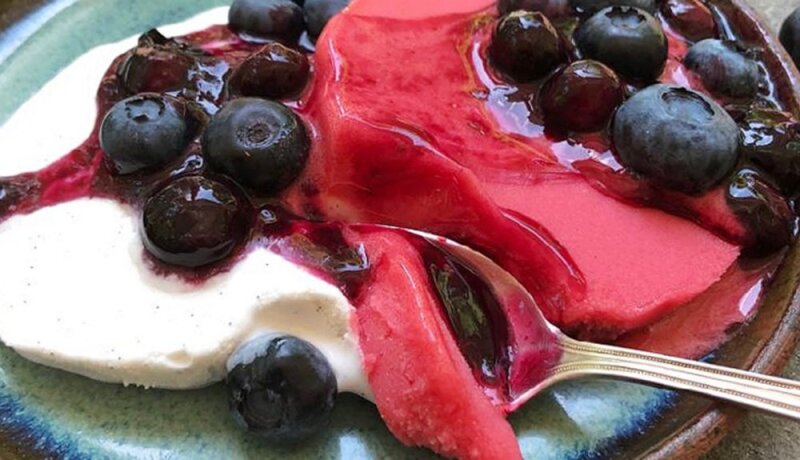 Serves 6

"If you have an ice cream freezer, you can easily make homemade frozen vanilla coconut milk. It's as simple as mixing 2 cans (13.5 ounces each) of regular coconut milk, 1 cup of sugar and 2 teaspoons of vanilla in a medium bowl. Refrigerate overnight until well chilled. A few hours before serving, churn, and then place in the freezer until ready to serve.

The blueberry sauce melds the store-bought frozen coconut milk and raspberry sorbet and gives this easy dessert a homemade feel. Leftover berry sauce can be used to flavor yogurt."

Ingredients:

2 cups fresh or frozen blueberries, plus extra for serving (optional)
3 tablespoons honey
1/2 teaspoon finely grated orange zest
4 teaspoons cornstarch dissolved in 2 teaspoons water
1 pint frozen vanilla coconut milk
1 pint raspberry sorbet
Instructions:
1. Put berries, honey, orange zest and 6 tablespoons water into a small Dutch oven. When mixture starts to simmer, whisk in cornstarch mixture. Continue to simmer until mixture thickens to sauce consistency. Cool sauce to room temperature. (Can be refrigerated in a covered jar for a couple of weeks.)

2. A couple of hours before serving, remove cardboard packaging from around the sorbet. Working quickly, use a sharp knife to slice the frozen tube into 6 rounds, laying them on a small rimmed baking sheet and immediately returning them to the freezer. Repeat the process with the frozen coconut milk.

3. When ready to serve, place one of each frozen round onto a dessert plate. Top with blueberry sauce — and a couple of fresh blueberries, if you like — and serve immediately.