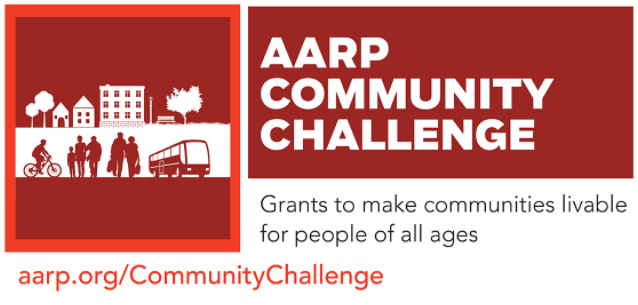 Today, AARP Michigan announced five organizations throughout the state will receive 2022 Community Challenge grants – part of the largest group of grantees to date with $3.4 million awarded among 260 organizations nationwide. Grantees will implement quick-action projects that help communities become more livable in the long-term by improving public places; transportation; housing; diversity, equity and inclusion; digital access; and civic engagement, with an emphasis on the needs of adults age 50 and over.

"AARP Michigan is committed to working with communities to improve residents' quality of life through tangible changes," said State Director Paula D. Cunningham. "We are proud to collaborate with this year's grantees as they make immediate improvements in their communities to jumpstart long-term change, especially for Michiganders 50 and over."

Here in Michigan, projects funded include:

Arboretum Detroit's Circle Forest project (Detroit) – Awarded $22,450 for the native restoration effort of 12 vacant and blighted lots into an accessible forested space with 200 native trees and wildflowers. The space will include benches and walking paths, half of which will be ADA compliant so residents from the adjacent care and rehabilitation facility can enjoy the space. It also will include two ADA-accessible gathering plazas and a boardwalk to accommodate the elderly and those with mobility challenges.
City of Lansing (Lansing) – Awarded $6,516 to create a cohesive, safer roadway connector in the Sycamore Park neighborhood near a school's playground. This project addresses the challenge of making the roadway's roundabout feature safer by utilizing low-cost materials like paints and delineator posts with two artistic bike racks to drive pedestrian traffic. This creative streetscape will add beauty and charm to the aging neighborhood and provide opportunities for the neighbors and the school to come together after a challenging two years of the Covid-19 pandemic.
Greater Flint Health Coalition (Flint) – Awarded $15,000 for the Community Gardening program to assist in creating productive and lasting community gardens for a minimum of three senior centers in Genesee County. Food insecurity, poverty and chronic disease are rampant in the county, underscoring the urgent need for this project. Community gardening provides multiple benefits that fight food insecurity and the chronic diseases plaguing Flint and Genesee County.
Road to Freedom (Detroit) – Awarded $12,500 for the rehabilitation of a 17-unit apartment complex into a livable and affordable space for those over 50 and their families. The project utilizes those recently released from incarceration, as well as other individuals over 50 years of age, to assist with interior and exterior remodeling and landscaping. These individuals learn construction skills and social skills while working to become more productive citizens following their release.
Sable Points Lighthouse Keepers Association (Ludington) – Awarded $5,600 to install picnic tables on the grounds of Big Sable Lighthouse for visitors to rest. Over half of the 18,000 summer visitors to the lighthouse are 50 years or older and public access requires a two-mile walk on a sand dune access road or via the beach. Limited bus service is provided to assist those unable to make the walk, of which 80% are over the age of 50. The new tables will provide a place for all visitors to sit, rest and enjoy the lighthouse.
AARP Community Challenge grant projects will be funded in all 50 states, Washington, D.C., Puerto Rico, and the U.S. Virgin Islands. True to the program's quick-action nature, projects must be completed by November 30, 2022.

This year, AARP is bolstering its investment in affordable and adaptable housing solutions in response to the national housing crisis. With additional funding support from Toyota Motor North America, the program is also increasing its support of projects that improve mobility innovation and transportation options.

The grant program is part of AARP's nationwide Livable Communities initiative, which supports the efforts of cities, towns, neighborhoods and rural areas to become great places to live for people of all ages. Since 2017, AARP Michigan has awarded 18 grants and $291,483 through the program to nonprofit organizations and government entities across the state.

View the full list of grantees and their project descriptions at aarp.org/communitychallenge and learn more about AARP's livable communities work at aarp.org/livable.

For media inquiries: Cathleen Simlar, csimlar@aarp.org.